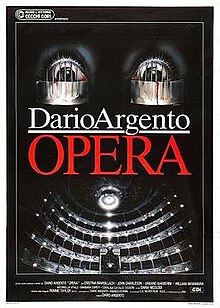 Not one of Dario Argento's best films, but certainly one of his most outrageous.  No other Argento movie more enthusiastically pushes his preferences for fluid camerawork, garish colors and extremely graphic violence.  Alas, for all of OPERA'S striking and imaginative elements, it fails to overcome the poor storytelling and perfunctory characterization of most other Argento films, and is saddled with what is arguably his worst-ever ending.
Quite simply, if you're a horror fan then you're familiar with the work of Italy's Dario Argento.  He's never made a perfect movie IMO, but his visually stunning, bizarre and imaginative films, from 1970's BIRD WITH THE CRYSTAL PLUMAGE to 1977's SUSPERIA to 2000's SLEEPLESS, are among the most striking I've experienced in or out of the genre.  I just wish they were better overall.
Concerning OPERA, it was apparently one of Argento's most troubled productions: his father died during shooting, his inexperienced star Cristina Marsillach was reportedly a primadonna throughout and, after Vanessa Redgrave dropped out at the last minute, Argento found himself directing his ex-wife Daria Nicolodi, with whom he was less than cordial (they'd worked together on his four previous films, but had divorced shortly before production on OPERA began).  The film was released in 1987, on the heels of 1982's TENEBRAE and 1984's PHENOMENA.  Like those films, OPERA was retitled (TERROR AT THE OPERA, following, respectively, UNSANE and CREEPERS) and heavily cut for its US release.  Thankfully the medium of DVD now allows us to view this film in all its uncut, widescreen glory.  A wildly savage take on THE PHANTOM OF THE OPERA, it is infinitely better than Argento's more literal 1998 adaptation of the same story, which is probably his worst film.
Betty, a young singer, inherits the lead role in an avant-garde staging of Verdi's MACBETH opera after the former lead breaks her leg.  Betty's fortunes are dashed, however, when she becomes the focus of a sadistic masked killer who takes to killing people in front of her; in order to keep Betty in place, the murderer ties her up and tapes spikes to her bottom eyelids.  This effectively forces her to keep her eyes open as the scumbag kills off all Betty's friends, including her agent Mira, whom he offs via a bullet shot through a door peephole straight into her eyeball (and out through the back of her head!).
The opera's director gets the idea of releasing ravens into the audience one night.  The vengeful birds track down the killer, a police inspector who once carried out a sadomasochistic affair with Betty's mother, and pluck out one of his eyes.  A later confrontation with Betty in a dressing room ends with the inspector burning to death…or so it seems.  In a poorly conceived and ultimately superfluous finale, Betty moves to Switzerland, where she's confronted once again by the killer.  He chases her around the countryside and she hits him over the head with a rock.
Dario Argento is one of the world's most personal filmmakers, with a style as distinctive as that of Orson Welles or Sergio Leone (who BTW once employed Argento as a screenwriter on 1968's ONCE UPON A TIME IN THE WEST).  OPERA'S garish color scheme, attention-getting camerawork and noisy score (which unfortunately substitutes generic heavy metal music in place of the hypnotic tones of SUSPERIA'S Goblin) are instantly recognizable, while the story's most memorably demented conceit—the spikes-taped-to-the-eyelid gag—could ONLY have been conjured in the mind of Dario Argento.  Equally recognizable are the killer's black-gloved hands, which, as in nearly all Argento's films, tend to be shown in close-up going about their deadly business.  If they look familiar, there's a good reason: as in DEEP RED, SUSPERIA, TENEBRAE, etc., the hands are Argento's own.
Argento takes his signatures to undreamed-of extremes here: the camerawork, courtesy of cinematographer Ronnie Taylor, goes beyond merely overwrought to verge on show-offy, particularly in the outrageous climax, which replicates a crow's POV in an astonishingly fluid and exhilarating flight around the opera house.  It's an undeniably impressive sequence, though maybe a bit too self-consciously so.  The violence is also pushed farther than usual, with graphic stabbings (including a shot inside a dude's mouth as a knife is rammed up through his chin!), a throat cutting, a gunshot to an eyeball, etc., resulting in what is known by the filmmaker himself as Argento's nastiest film—and that's no small feat!
Vital Statistics 
OPERA (aka TERROR AT THE OPERA)
ADC/Sri Cecchi Gori Group Tiger Cinematographica Sri
Director: Dario Argento
Producer: Dario Argento
Screenplay: Dario Argento, Franco Ferrini
Cinematography: Ronnie Taylor
Editor: Franco Fraticelli
Cast: Cristina Marsillach, John Charleson, Urbano Barberini, William McNamara, Antonella Vitale, Barbara Cupisti, Coralina Cataldi Tassoni, Daria Nicolodi, Antonio Iuorio, Carola Stagnaro, Francesca Cassola, Maurizio Garrone, Cristina Giachino