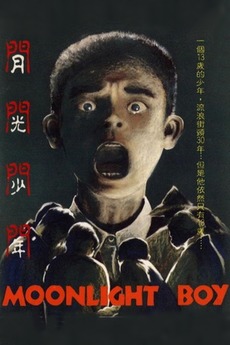 Poetic, bizarre and altogether impressive nineties-era horror from Taiwan that can be viewed as Asia's answer to THE SIXTH SENSE.  MOONLIGHT BOY (YUE GUANG SHAO NIAN) from 1993 is an important but largely unheralded film from Taiwan's so-called second cinematic new wave of 1990 to the present, which introduced such important filmmakers as Ang Lee and Tsai Ming-liang (of VIVE L'AMOUR and WHAT TIME IS IT THERE?). For whatever reason, MOONLIGHT BOY'S writer-director Yu Wei Yen never attained the heights reached by his contemporaries, being known primarily for producing three films by the late Edward Yang. Yet MOONLIGHT BOY, Yen's second and (thus far) final directorial credit, must be counted as one of the decade's standout Asian genre films.
A strangely aloof young man dispassionately wanders the streets of Taiwan. He follows a young woman to a rock concert; she doesn't appear to know he's there and rides away in a taxi, leaving the "moonlight boy" alone. From there he appears in a spectral household run by a cartoon man and his dog, and then outside the young woman's home where she lives with her mom and grandmother.
By this point it's pretty obvious that the moonlight boy is a ghost and the young woman his still-living sister, with whom the moonlight boy can communicate in dreams. He flashes back and forth between his sister's reality and a hallucinatory realm where he lives with the cartoon man, both periodically interrupted by shocking flashes of the violent accident responsible for the boy's present state.
The moonlight boy also meets his deceased father on a country road, and is impressed that the latter isn't upset with him (as the old man was previously angry with the boy for his poor academic performance). The boy seems reasonably content with his lonely existence, but then he enters his former home and is horrified to find his own comatose body in his bed. It seems he's been in a coma for many years, and is only now facing up to that fact…
The eerie, subdued aura that pervades MOONLIGHT BOY is distinct and arresting. The film's timeframe and locale are unforgettable, and instrumental to its mood: it takes place largely at night, on empty streets where the title character, a sad-faced kid with big ears, wanders.
Through deliberate pacing, uncluttered visuals and a disarmingly quiet soundtrack, director Yu Wei Yen creates a powerfully dreamlike atmosphere. He also provides a consistently surprising and unpredictable narrative packed with striking avant-garde elements. The periodic juxtaposition of live action and primitive animation is one such element, and while the mixture isn't exactly up to ROGER RABBIT standards from a technical standpoint, it does make a considerable impression in its strangeness and audacity—as for that matter does MOONLIGHT BOY as a whole, a highly evocative, one-of-a-kind oddity that remains frustratingly obscure.
Vital Statistics
MOONLIGHT BOY (YUE GUANG SHAO NIAN)
Fire Sky Pictures/Shutter Pictures
Director: Yu Wei Yen
Screenplay: Yu Wei Yen, Jerry Sun
Cinematography: Pei-chu Chu, Yi-shu Lee
Editing: Eve Wen
Cast: Te-chien Hou, Elaine Jin, Yuan-chi Lu, Shu-Chun Ni, Eric Tsang, Qi-zan Wang, Dun Wu, Kao-hsiung Wu