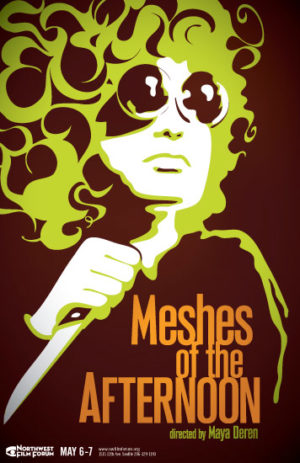 This 1943 experimental short is by no means a traditional horror movie, but it is among the most vital and influential such films.  Quite simply, no scary movie collection is complete without it!
The 14-minute MESHES OF THE AFTERNOON, the premiere film by the famed avant-gardist Maya Deren (whose subsequent efforts include AT LAND and THE VERY EYE OF NIGHT), was a seminal event in underground moviemaking, and remains among the most famous such films.
Co-directed with Alexander Hammid (the degree of whose input remains a subject of debate), it's a surreal account of one woman's psychological breakdown, anticipating such films as Roman Polanski's REPULSION, Robert Altman's IMAGES and David Lynch's INLAND EMPIRE.  On a darker note, the final image of MESHES, showing its heroine (played by Deren) murdered, eerily anticipated Maya Deren's own 1961 death.
In a posh LA mansion an attractive young woman repeatedly chases a hooded flower-bearing figure down the outside walkway.  Inside, after falling asleep in a chair, the woman finds herself caught up in an increasingly surreal universe where the laws of physics don't seem to apply and an errant bread knife turns up wherever she goes.
With so much repetition going on the woman eventually finds herself interacting with several identical twins.  At one point she stabs at one of her other selves—upon which it which turns into a man (presumably the woman's husband).  She uses the bread knife to stab him a second time, but his face turns into a mirror that breaks, its shards landing on a beach to be washed away by the tide.
Here the film switches viewpoints to that of the man, who finds the flower previously held by the hooded figure at the front door of the mansion.  He enters to find the woman dead, having apparently committed suicide.
This film can be interpreted in many ways: as a meditation on suicide (which some believe was the true cause of Maya Deren's death), a fractured look at a disintegrating marriage, or an exploration of the inner world of a schizophrenic.  Its use of repeated elements—a bread knife, a flower, a key—demonstrates a real grasp of the subconscious, which filters reality through such symbols.
Maya Deren's (and/or Alexander Hammmid's) filmmaking savvy is evident throughout, particularly in the skilled editing, with its continually imaginative and unexpected segue ways from inside the mansion to outside and vice-versa (i.e. a POV shot through an ancient phonograph speaker).  The film's use of mirrors (rarely intact) is impressive and quite appropriate considering the divided nature of its protagonist.  The dark haired Deren proves quite memorable as that protagonist, an undeniably attractive woman trapped in a relentless psychotic nightmare.
Vital Statistics
MESHES OF THE AFTERNOON
Directors: Maya Deren, Alexander Hammid
Screenplay: Maya Deren
Cinematography: Alexander Hammid
Editing: Maya Deren
Cast: Maya Deren, Alexander Hammid