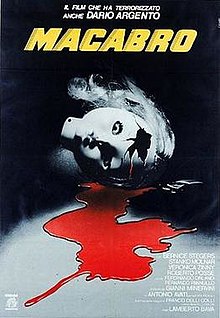 This gruesome and depraved yet subtle, atmospheric Italian horror fest was the directorial debut of Lamberto Bava, son of the legendary "Father of Italian horror" Mario Bava.  A work of uncommon skill and imagination, MACABRE proves that talent ran deep in the Bava family.
Believe it or not, the "Based on a True Story" disclaimer that opens MACABRE (a.k.a. MACABRO; 1980) is (for once) real: the film really is based on the true story of a New Orleans woman who reportedly preserved her deceased lover's head for amorous purposes.  The story was brought to Lamberto Bava's attention by Pupi Avati, one of the film's four credited screenwriters and an extremely accomplished filmmaker in his own right (he'd already made the famous HOUSE WITH LAUGHING WINDOWS and would go on to direct ZEDER: VOICES FROM BEYOND).  It shouldn't surprise, then, that the finished film plays a lot like an Avati project, with its extremely drawn-out narrative and ever-present sense of brooding mystery.
Before MACABRE Bava had worked as an assistant director on several of his father's projects and co-wrote and directed much of SHOCK (1977), the senior Bava's final film (some sources claim Lamberto helmed all of it).  Lamberto Bava would repeat his assistant director duties on seminal films like Ruggero Deodato's CANNIBAL HOLOCAUST, as well as the Dario Argento pictures INFERNO (for which Bava's father contributed special effects) and TENEBRAE, and would go to direct 1983's A BLADE IN THE DARK, 1985's DEMONS and its 1987 sequel.
Jane is a sexually frustrated housewife living in New Orleans.  She gives reign to her pent-up lust with her lover, who lives in an old townhouse with his blind brother.  One day, when Jane is over at her lover's house getting it on, her psychotic daughter drowns her little brother in the bathtub.  Jane ends up rushing home in a car driven by her lover, who in trying to calm her down drives off the road and decapitates himself.
The narrative then jumps ahead a year, as Jane, now a divorcee, is released from a mental institution.  She goes to live in the home of her dead lover, where the latter's blind brother still lives downstairs.  He grows suspicious immediately, as every night he hears Jane opening the refrigerator door and ecstatically moaning in the room above his.  It transpires that Jane is keeping her lover's maggot-ridden head locked in the freezer and taking it out each night to have sex with.  Things are complicated by the reappearance of Jane's demented young daughter, who investigates her mother's nocturnal activities and makes her discovery known though extremely devious means (involving a bowl of specially cooked soup, a severed body part and a certain article of jewelry).  Likewise, there's a nasty discovery in store for the blind man, as not all is as it seems…
In MACABRE Lamberto Bava eschews gore and sleaze, the standard ingredients of most Italian horror movies, in favor of a surprisingly restrained aura of muted terror and perverse eroticism (this probably explains why the film, well done though it is, was a box office flop).  The subject matter is as morbid as can be imagined, but the film itself is a classy affair made with real skill and cunning.  It also benefits from a fearless lead performance by the voluptuous and seductive Bernice Stegers (previously seen in Fellini's CITY OF WOMEN), who makes her character's unnatural desires seem disturbingly convincing.
Yet MACABRE has some annoyances, most of which can probably be blamed on the lowbrow tendencies of the Italian horror industry.  The tacky faux-romantic score is horrendous, all but ruining the subtle atmosphere, as is the awful English dubbing, a standard Italian movie practice here rendered more aggravating by the laughably phony Southern accents.  The ending is also unsatisfying, packed as it is with a lot of gratuitous bloodletting in an apparent effort to appease gorehounds (most such viewers would likely have abandoned the film by that point), and a supernaturally tinged final shot that I found plain silly.
Vital Statistics
MACABRE (a.k.a. MACABRO; FROZEN TERROR)
Medusa Distribuzione
Director: Lamberto Bava
Producers: Gianni Minervini, Antonio Avati
Screenplay: Lamberto Bava, Pupi Avati, Antonio Avati, Roberto Gandus
Cinematography: Franco Delli Colli
Editing: Piera Gabutti
Cast: Bernice Stegers, Roberto Posse, Stanko Molnar, Verónika Zinny, Ferdinando Orlando, Fernando Pannullo, Elisa Kadiga Bove