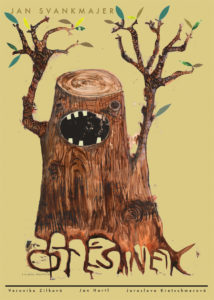 From the legendary Czechoslovakian animator/filmmaker Jan Svankmajer comes LITTLE OTIK, a singularly twisted, surreal look at childbearing and the unavoidable—and, in this case, extremely unpleasant—responsibilities that come with it.
Starting with 1964's "The Last Trick," Jan Svankmajer has made a number of consistently fascinating, bizarre animated shorts, including classics like "Dimensions of Dialogue" (in which claymation heads tear apart and devour each other) and "The Flat" (a man finds himself trapped in an apartment whose furniture has a mind of its own). His first foray into feature filmmaking was ALICE (1987), an eye-popping interpretation of ALICE IN WONDERLAND. He followed this with the even more astonishing FAUST (1994) and CONSPIRATORS OF PLEASURE (1996). His latest feature, LITTLE OTIK (OTESANEK; 2000), is his most accessible film to date…it may not be quite as potent as his previous three, but does represent the work of a steadily maturing filmmaker.
A seemingly happy couple, unable to conceive a child, finds a solution (of sorts) to their dilemma when the husband carves a child out of a tree trunk. The wife takes to "Little Otik" a bit too readily, and even goes so far as to stuff a series of pillows in her shirts in order to perpetuate the illusion that she's pregnant. As you might have guessed, the inanimate Otik doesn't stay that way for long, coming to squalling life and devouring everything in sight—including gallons of milk, mounds of pork, the mailman and most of the residents of his parents' apartment building! And then there's the too-inquisitive little girl, her constantly bickering parents, the apathetic old lady who plants cabbages behind the apartment and the old Czech fable of "Otesanek," which has quite a few disturbing parallels to Little Otik's own story.
Okay. As you can probably discern, the film is overstuffed, being too much of a good thing.  Still, the proceedings are never boring.
Jan Svankmajer, as anyone who's seen FAUST or CONSPIRATORS OF PLEASURE knows, likes close-ups, particularly of vile and grotesque things. In this case sloppy, runny foods—the people in this film eat constantly, and everything they consume is mush—are the objects of choice. He also utilizes a surreal aural mix that pinpoints certain sounds and deliberately leaves others out altogether (this is one film that definitely demands to be seen on a big screen with a top-flight sound system!).
Svankmajer also manages to find outlets for his animation genius, most obviously in the twitching figure of Little Otik, but also in the side-splitting commercials that pop up throughout the film, which portray stop motion vacuum cleaners and other household appliances. Overall I'd say the film, in conjunction with its story, is a mite bloated and, at a numbing 125 minutes, overlong. That's not to say Svankmajer doesn't know how to hold our interest, just that he needs a better editor.
Vital Statistics
LITTLE OTIK (a.k.a. OTESANEK)
Zeitgeist Films
Director: Jan Svankmajer
Producers: Keith Griffiths, Jaromir Kallista, Jan Svankmajer
Screenwriter: Jan Svankmajer
Cinematography: Juraj Galvanek
Editor: Marie Zemanova
Cast: Veronika Zilkova, Jan Hartl, Kristina Adamcova, Jaroslava Kretschmerova, Pavel Novy, Joseph Cahill