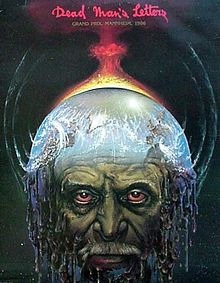 From pre-Glasnost Russia, a profoundly grim and depressing look at the aftermath of a nuclear war that's also a supremely lyrical, poetic piece of filmmaking.  It's a harsh viewing experience, but also a necessary one.
For some reason LETTERS FROM A DEAD MAN (PISMA MYORTVOGO CHELOVEKA; 1986) has become quite scarce recently, but it was one of the key Soviet films of the eighties.  Co-scripted by Boris Strugatsky, of the legendary Strugatsky Brothers writing duo, it is without question the supreme masterpiece of director Konstantin Lopushansky.  It won several major awards, was screened around the world and attracted some high-profile attention: American mogul Ted Turner was so impressed by the film he personally secured an English dubbed version for broadcast on his TNT cable channel.
LETTERS FROM A DEAD MAN has much in common with bleakly realistic nuke pictures from the west like THE WAR GAME and THREADS.  It's also highly reminiscent of the work of Andrei Tarkovsky (on whose STALKER Lopushansky worked as a production assistant), who for the record made his own anti-nuclear statement with the obscure, mystical THE SACRIFICE, released the same year as the present film—a curiously appropo turn of events, as LETTERS FROM A DEAD MAN is in my view everything THE SACRIFICE should have been.
An all-out nuclear war has put an end to civilization as we know it.  The remaining survivors subside within makeshift shelters, as the radiation-saturated outer world is uninhabitable, riddled as it is with scattered corpses and mounds of rubble through which gas mask-wearing scavengers cavort.
In the refuse-strewn basement of a devastated museum, a Nobel Prize winning professor composes lengthy letters to his dead son, all the while attempting to fit the facts of his existence into a logical theorem of the type he once specialized in.  The professor's wife lives with him in the museum basement, but is near death; it's not long before she leaves to join their son.  The professor is forced to bury her, and conclude there is no logical explanation for the current state of the world.
A collective decision is made by the professor's companions—including the museum's suicidal curator, who's looking to prepare a time capsule for future generations, and the latter's grown son, who dreams of creating a master race—to leave the museum, but the professor elects to stay behind with a group of abandoned children.  It's Christmas Eve, and he tells the children of how Christmas used to be…and then dies.  But before passing on the professor advises the kids to vacate the premises, because (he claims) as long as one keeps walking there's hope.
This film's landscape of wind and rubble, lensed in different tints of black and white, is one of the most grimly convincing depictions of a post-nuclear environment you'll ever experience.  As with any good sci fi milieu, it's been vividly imagined down to the smallest detail and performed with real conviction.  Often director Konstantin Lopushansky slows the action to train his camera for long periods on the faces of his cast members, who communicate a real sense of hopelessness and desperation.
Yet for all its unblinking realism the film has an ethereal and even poetic aura.  Lopushansky, in the manner of his mentor Andrei Tarkovsky, favors wide shots and measured pacing, and includes some genuinely hallucinatory interludes.  The overall tone is dreamlike—or, more accurately, nightmarish—lending just the right touch of otherworldliness to an otherwise all-too-realistic setting.  And then there are the final scenes, involving the protagonist and several children in a surprisingly touching, cautiously optimistic wrap-up.
Vital Statistics 
LETTERS FROM A DEAD MAN (PISMA MYORTVOGO CHELOVEKA)
Lenfilm Studio
Director: Konstantin Lopushansky
Screenplay: Konstantin Lopushansky, Vyacheslav Rybakov, Boris Strugatsky
Cinematography: Nikolai Pokoptsev
Cast: Rolan Bykov, Losif Ryklin, Viktor Mikhaylov, Aleksandr Sabinin, Nora Gryakalova, Vera Mayorava, Vatslav Dvorzhetsky, Svetlana Smirnova, Nikolai Alkanov, Vadim Lobanov