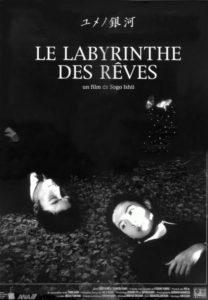 Arthouse devotees will appreciate this heavily stylized black and white mystery from Japan's legendary Sogo Ishii.  Although made in 1996, it looks and feels like something from the late sixties.
LABYRINTH OF DREAMS (YUME NO GINGA), based on the short story "The Serial Killer" by Kyusako Yumeno, was a late-period film by Sogo Ishii.  His films of this period were quite different from previous Ishii efforts like CRAZY THUNDER ROAD (1980) and BURST CITY (1982), both punk rock fuelled freak-outs.  Ishii's last early-period feature was 1984's CRAZY FAMILY, after which he vanished into the underground for a decade, only to re-emerge in 1994 with the tightly controlled serial killer thriller ANGEL DUST.  Its meticulous filmmaking was a total contrast to the anarchy of the earlier films, and this new aesthetic would come to define subsequent Ishii features like the sci fi drama AUGUST IN THE WATER (1995), the martial arts epic GOJOE (1999), and LABYRINTH OF DREAMS, the most spare and refined of all his films.
With its artful black and white film stock and heavily self-conscious mise en scene, LABYRINTH OF DREAMS explicitly references Japanese films of the late sixties by filmmakers like Nagisa Oshima (DEATH BY HANGING) and Toshio Matusmoto (FUNERAL PROCESSION OF ROSES).  Yet despite its qualities, LABYRINTH OF DREAMS has never been legitimately released in the US (outside a stunningly mastered DVDr transfer from a short-lived public domain outfit called Japanese New Wave Cinema Classics).
Tomiko is an attractive tourist bus conductor bored with her uneventful existence.  Things change, though, when a driver by the name of Niitaka signs on to her district, having been expelled from his own after crashing a bus conducted by Tomiko's best friend Tsuyako, who was killed in the accident–only Tomiko doesn't think it was an accident.  Niitaka, Tomiko decides, murdered Tsuyako, and Tomiko comes to believe he's planning on doing the same to her…especially since he's assigned to drive the very bus she conducts!       Tomiko is determined to wreak revenge on this apparent killer but finds herself strangely attracted to him, despite his distant and off-putting air.  She strikes up a relationship with Niitaka, but still pursues her campaign of vengeance, resolving to take him out during a final storm-tossed bus ride–if he doesn't kill her first!
With this film Sogo Ishii took a fairly traditional mystery tale and transformed it into something arty and, as the title indicates, dreamlike.  The narrative constantly shifts from dream to reality, with little-to-no distinction made between the two.  From the opening scenes a languid, hallucinatory atmosphere is established that makes it difficult to discern whether the proceedings are intended as dreams or otherwise–or indeed if the entire film is a dream.  Ishii's stylistic quirks include unexpected lapses into dead silence on the soundtrack, sudden and apparently unmotivated close-ups, extremely deliberate pacing, and ultra-stark lighting (utilized most effectively in the introduction of the would-be killer, whose face is totally obscured by a burst of bright light).
The black and white photography is gorgeously rendered by cinematographer Norimichi Kasamatsu, imparting a deeply refined atmosphere that won't appeal to action movie fans.  Neither will the staid narrative, which goes against everything we've come to expect from mystery-suspense fare.  But those willing to brave this film's determinedly nontraditional rhythms will find it a fascinating, uniquely disturbing viewing experience.
Vital Statistics 
LABYRINTH OF DREAMS (YUKE NO GINGA)
KSS Inc.
Director: Sogo Ishii
Producers: Yasuhiro Ito, Kenichi Kamata, Satoshi Kanno, Atsuyuki Shimoda, Kazuo Suzaki
Screenplay: Sogo Ishii
(Based on a story by Kyusako Yumeno)
Cinematography: Norimichi Kasamatsu
Editing: Kan Suzuki
Cast: Rena Komine, Tadanobu Asano, Kitomi Kyono, Tomoka Kurotani, Kirina Mano, Reiko Matsuo, Kyusaku Shimada, Takeshi Ikeda, Shuko Homani