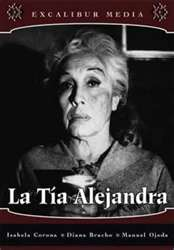 A horror outing from Mexico's much praised (and overly so in my view) Arturo Ripstein. It's strikingly weird, but otherwise has little to recommend.
The highly prolific Arturo Ripstein specializes in subversive and often surreal melodramas of the type his mentor Luis Bunuel used to make. Among Ripstein's films are the western TIME TO DIE (TIEMPO DE MORIR; 1966), the flamboyant drama PLACE WITHOUT LIMITS (EL LUGAR SIN LIMITES; 1978) and the true crime saga DEEP CRIMSON (PROFUNDO CARMESI; 1996), all of which have been wildly praised by film commentators in and out of Mexico. LA TIA ALEJANDRA, from 1978, is not generally considered one of Ripstein's stronger efforts, and there's a reason for that.
One day the outwardly kind old Aunt Alejandra comes to stay with her family. This family, a normal Mexican clan who nonetheless live in a rather forbidding townhouse, collectively decide Alejandra is "loco," especially when she's caught performing a weird ritual involving candles and incense. Alejandra also takes the two youngest children to look at mummies in a museum and teaches them how to make a table levitate, seemingly confirming that she's a witch with supernatural powers.
But then one day Alejandra trips over some toys at the top of the staircase and is badly injured. Determined to get revenge on the family, she (seemingly) causes the death of the young Andres, who after Alejandra spies him mocking her falls down the same stairs Alejandra did and breaks his neck. Next the eldest daughter Malena dies in a mysterious fire. The family patriarch Rodolfo decides he's had enough and throws Alejandra out of the house. She retaliates—or seems to—by making him violently sick.
Following this the young Martha falls ill. Her mother Lucia sends the girl away before Alejandra can inflict further damage, leaving the two women alone. An all-out battle of wills ensues that only one will survive.
This film, while not entirely without interest, validates all my reservations about the work of Arturo Ripstein. Aside from being illogical and silly (why doesn't the family think to ask Alejandra to leave before it's too late?), the film is filled with distracting 1970s conventions, the outrageously inappropriate synthesizer score and chintzy lighting scheme (it has the look of a Hollywood sex comedy of the period) being foremost among them. As is typical of Mexican cinema, the atmosphere is highly melodramatic, at times almost comically so, and the performances wildly histrionic—for all of Ripstein's avant-garde predilections, his filmmaking has a very traditional Mexican sensibility that works against the subtly atmospheric horror fest he was trying to create.
Yet the proceedings exert an oft-kilter fascination. Ripstein's flair for surrealism is evident in the frequent depictions of levitation and poltergeist activity. Such things make sense in the context of a supernatural horror film, a form that clearly suited Ripstein. Alas, it's a genre he's largely ignored in subsequent years, although based on the present film maybe that's not such a bad thing!
Vital Statistics
LA TIA ALEJANDRA
Estudios Churubusco Azteca S.A.
Director: Arturo Ripstein
Screenplay: Delfina Careaga, Sabina Berman
Cinematography: Jose Ortiz Ramos
Editing: Rafael Ceballos
Cast: Isabela Corona, Diana Bracho, Manuel Ojeda, Maria Rebeca, Adonay Somoza Jr, Lilian Davis, Ignacio Retes