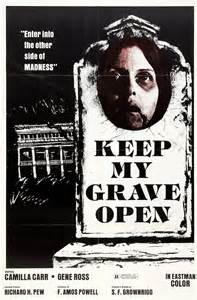 One of the more distinguished efforts by the late S.F. Brownrigg, although, given that his films aren't that great overall, that's not saying much!
The Texas-based producer/director S.F. Brownrigg (1937-1996) was one of the more noteworthy independent filmmakers of the seventies. During his lifetime Brownrigg turned out cheapjack classics like THE FORGOTTEN/DON'T LOOK IN THE BASEMENT (1973), SCUM OF THE EARTH/POOR WHITE TRASH II (1974), DON'T OPEN THE DOOR (1974) and this REPULSION-inspired 1976 film, which was scripted by F. Amos Powell, of TOWER OF LONDON and DEMONOID: MESSENGER OF DEATH. As with the abovementioned films, KEEP MY GRAVE OPEN is not especially well known, but seems to have a special place in the hearts of discerning horror fans.
In the deep south a hitchhiker enters a seemingly deserted mansion. He elects to raid the refrigerator, from which he takes a steak–but while cooking the meat over an open flame he's decapitated by an unseen someone with a sword.
The following day the house's owner, a young woman named Lesley Fontaine, returns home from a trip to the market. She lives with her brother Kevin, who it seems committed the murder. It's not long before he commits another murder, the victim this time being the girlfriend of Lesley's stable boy Robert, who is stabbed through the heart with the aforementioned sword.
A visit to her psychiatrist reveals that Lesley has an "unhealthy" bond with her brother, which she denies. Yet that very night she pays Kevin a special visit, getting dressed up in provocative attire for the occasion and, it seems, having sex with her brother. She's interrupted by an unexpected visit from Robert, who, as you might guess, quickly meets his end at the blade of Kevin's sword.
A further killing is in store, the designated victim this time being a prostitute hired by Lesley to service Kevin. The unfortunate woman is killed in a now-familiar manner, after being made privy to a long-buried (though easily guessable) "secret."
Like all of S.F. Brownrigg's films, KEEP MY GRAVE OPEN isn't particularly distinguished, though it's not entirely undistinguished, either. It has a definite sense of style, being resolutely brooding and stately in nature. Brownrigg, however, loses his composure in outrageous bits like a POV sex scene in which the camera zooms in and out on the leading lady's mouth; such Ken Russell-esque insanity doesn't suit Brownrigg, who does best with bleak minimalism.
To his credit, Brownrigg seems fully aware of the ridiculousness of the F. Amos Powell scripted narrative. The more clichéd elements (such as the horny young couple who meet their ends via Kevin's sword) are toned down, and the "secret" of Kevin's identity (which isn't exactly difficult to predict) is given away far in advance of the ambiguous finale.
In the lead role Camilla Carr is far better than you'd expect (good acting is generally not a distinguishing feature of Brownrigg's work), delivering a remarkably sympathetic performance given that her character is completely nuts. Look also for a supporting turn by a young Stephen Tobolowksy, a longtime Hollywood character actor who appears here in his earliest credited film role.
Vital Statistics
KEEP MY GRAVE OPEN
Wells Company
Director: S.F. Brownrigg
Producer: S.F. Brownrigg
Screenplay: F. Amos Powell
Cinematography: Janis P. Valtenbergs
Editing: Jerry Caraway, Lynn Leneau
Cast: Camilla Carr, Gene Ross, Stephen Tobolowsky, Ann Stafford, Sharon Bunn, Chelcie Ross, Annabelle Weenick, Bill Thurman, Jessie Lee Fulton, Lucille Baldwin, Desmond Dhooge, Skipper Richardson, Cebe Reed