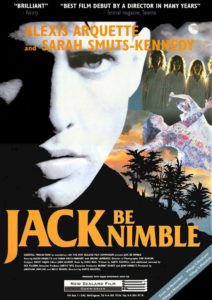 One of the best genre items of recent years, this 1994 New Zealand release is that rarity of rarities: A truly original horror film. A brother and sister are split up as young children and forced to grow up among abusive families, until one of them develops psychic powers…and that's all in the first twenty minutes. Whatever else this film might be, boring it most certainly is not. It's also made with great skill and contains solid performances from the entire cast. Why aren't more horror movies this good?
The production's one "star," American Alexis Arquette (of the prestigious Arquette acting clan), may be a real-life drag queen, but he does brilliant work as half of the central brother-sister duo (with the most convincing New Zealand accent I've ever heard an American attempt).  His screen sister, Sarah Smuts-Kennedy, is even better.
Other standout work comes from the late Bruno Lawrence, one of New Zealand's top actors, as Kennedy's abusive boyfriend. Predictably, this top-notch film was released straight-to-video in this country, complete with the inevitable lurid (and in this case misleading) box art. It may be difficult to find, but search it out. It's worth it!
Dora (Smuts-Kennedy) has psychic powers. They lead her to her long-lost brother Jack (Arquette), and the two set off in search of their biological mother. They find her, re-opening more than their share of old wounds; unfortunately, following in their path are four psychotic sisters, the remaining survivors of Jack's adopted family, ready for blood…
But let's not forget the story's many, many other elements, which include a hypnosis machine, psychosis, child abuse and even a hint of incest. In addition, the feelings evoked by Dora and Jack's re-encounter with their biological mother feel genuine enough to invite speculation that writer-director Garth Maxwell might have been an abandoned child himself. But he always keeps the supernatural aspects of the story in view, even during the "mushy" scenes. Truly, this film has something for everybody!
While the story line might seem unwieldy, Maxwell keeps JACK BE NIMBLE moving along at a lightning-fast pace, never allowing things to become too complicated or obscure. It's clear that he's following no set rules, either in his storytelling or his direction, which is good. Even better, he manages to pull it off, as JACK BE NIMBLE is never less than compelling. Of course, Maxwell also includes a fair amount of sleazy violence, but then most of it occurs at the beginning and (particularly) at the end. At times, this almost feels like an art film—albeit an usually entertaining one.
Vital Statistics
JACK BE NIMBLE
Essential Productions/Triboro Entertainment Group
Director: Garth Maxwell
Producers: Jonathan Dowling, Kelly Rodgers
Screenwriters: Garth Maxwell, Rex Pilgrim
Cinematography: Don Duncan
Editor: John Gilbert
Cast: Alexis Arquette, Sarah Smuts-Kennedy, Bruno Lawrence