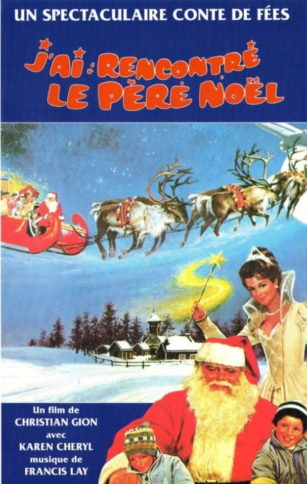 France was the source of this 1984 Christmas themed atrocity, which is horrendous—albeit quite endearingly so.  It's certainly the only Christmas movie I know of that contains teleportation, a magic fairy, a dog-eating ogre, a killer alligator, monkeys and machine guns!  It was made by Christian Gion, who's often referred to as the worst French director of all time—I BELIEVE IN SANTA CLAUS (J'AI RENCONTRE LE PERE NOEL), however, is often referred to as Gion's "masterpiece."
It begins with Simon, a young boy, writing a letter to Santa Claus asking that his parents be brought home from Africa, where they're being held hostage by mercenaries.  There follows a school field trip to an airport, during which Simon and Elodie, a little girl, are displaced from the group.  They somehow end up getting put on a plane flying to the North Pole.
Once there Simon and Elodie leave the airport and head off into the snowy wilderness.  There they wander for some time before they're met by none other than Santa Claus, in his sleigh pulled by those eight tiny reindeer.  He takes the kids to his house, where he uses a computer to study up on them and their situation.
Santa calls in a fairy woman who teleports him to Africa, where he's menaced by an alligator and the fairy magically creates a gift-wrapped present for the local monkeys.  At the same time the kids wander off into the snow with a little dog filched from Santa's house, where they're captured by a fearsome ogre.  The ogre imprisons the kids in his cabin, which is filled with deer carcasses, and devours Santa's dog in front of them.
Back in Africa, Santa and the fairy manage to locate Simon's parents, who are imprisoned in a hut.  Santa and the fairy end up being held captive themselves, by machine gun-toting mercenaries who are unwilling to bend or negotiate.  Will Santa succeed in freeing Simon's folks and get back the North Pole to save the kids from the ogre?  Not to give anything away, but the answer to that question is a resounding yes!
As you might guess, this film is relentlessly sappy and saccharine, with an obnoxious synthesizer-scored music number every few minutes and a great deal of goofy slapstick.  French slapstick, I contend, is deadly in any movie, but especially a kid's movie.
The acting?  Notably antic, with the child performers proving far more natural and unforced in their emoting than the adults—although that's not to say that the efforts of any of the actors in this film are at all noteworthy.
The scenery?  Not worth writing home about, either, particularly the depiction of the North Pole as a snow-bound forest dotted by featureless shacks, while the Santa's workshop on display here seems quite shoddy and makeshift.
Then there are the creepy scenes in the ogre's lair, in which said ogre behaves around the child protagonists in a decidedly inappropriate manner—meaning this "kid's movie" is not recommended for viewing by kids!
Vital Statistics
I BELIEVE IN SANTA CLAUS (J'AI RENCONTRE LE PERE NOEL; HERE COMES SANTA CLAUS)
Lapaca Productions
Director: Christian Gion
Producer: Christian Gion
Screenplay: Christian Gion, Didier Kaminka
Cinematography: Jacques Assuerus
Editing: Pauline Leroy
Cast: Karen Cheryl, Armand Meffre, Emeric Chapuis, Alexia Haudot, Jeanne Herviale, Dominique Hulin, Helene Ruby, Jean-Louis Foulquier, Baye Fall