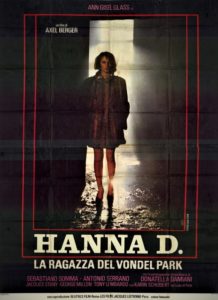 A Euro sleaze-fest from 1984 that occupies a most rarified category: that of cut-rate rip-offs of 1981's CHRISTIANE F.!  The latter was a fact-based German-made account of a young woman who becomes a heroin addict and, later, a prostitute.  There were apparently quite a few CHRISTIANE F. knock-offs in the eighties, of which HANNA D. is said to be one of the sleaziest.  Also, unlike most of its fellows, HANNA D. was given a deluxe region 1 DVD release by Severin Films.
One aspect in which this films differs from CHRISTIANE F. is in its presentation of the protagonist's descent into prostitution, which in HANNA D. occurs at the beginning of the film.  It seems Hanna (French actress Ann-Gisel Glass), a schoolgirl, has turned to prostitution to support her loser mother, who suffers from a lack of sex—and no wonder, as her boyfriend has a thing for Hanna!  Further trouble arrives in the form of Hanna's fellow whores, who attack her for poaching their clientele, and her pimp boyfriend Miguel, who inducts her into the world of pornography.
Understandably, Hanna is desperate to alleviate the awfulness of her existence.  Unfortunately the release she finds is a heroin addiction, provided by one of her underworld contacts—and furthered by Miguel.  Hanna is rounded up by cops and jailed, only to find more opportunities to shoot up, as her fellow prisoners have smuggled drugs into the prison.
In the midst of all this Hanna meets a nice guy named Axel, which humanizes her somewhat.  It also arouses the ire of Hanna's slimeball associates, who see Axel as a threat.  They beat up Axel, which plunges Hanna into suicidal despair…
As directed by Italy's Rino Di Silvestro (of WEREWOLF WOMAN, WOMEN IN CELL BLOCK 7 and DEPORTED WOMEN OF THE SS) and edited by the legendary sleazemeister Bruno Mattai (who directed WOMEN'S PRISON MASSACRE and RATS: NIGHTS OF TERROR around the time HANNA D. was being made), this film is not what you'd call well made, nor so-bad-it's-good, being concerned with shock and sleaze above all else.  This makes for an oft-incoherent viewing experience, as narrative clarity is sacrificed in favor of shock value (Hanna's early dabbles with heroin, for instance, are presented in a manner so perfunctory it barely registers), with the sleazy atmosphere enhanced by profanity-laced English dubbing.
HANNA D. does, however, move agreeably fast, with a new outrage occurring every few minutes: fellating a water faucet, shooting up in the eyelid and under the tongue, a heroin capsule removed from a woman's butthole (in close-up!) and great deal of excess nudity.  So it's diverting at least.
Vital Statistics
HANNA D.-THE GIRL FROM VONDEL PARK (HANNA D.-LA RAGAZZA DEL VONEL PARK)
Beatrice Film/Les Films Jacques Leithienne
Director: "Axel Berger" (Rino Di Silvestro)
Screenplay: Rino Di Dilvestro, Herve Piccini
Cinematography: Franco Delli Colli
Editing: Bruno Mattei
Cast: Ann-Gisel Glass, Sebastiano Somma, Tony Serrano, Donatella Damiani, Jacques Stany, Georges Millon, Fausto Lombardi, Karin Schubert