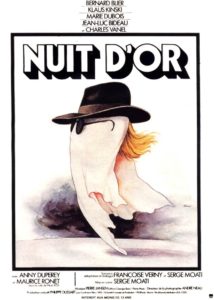 If Dario Argento were to remake THE COUNT OF MONTE CRISTO the results would likely play very much like this deliriously odd French thriller from the seventies.
In KINSKI UNCUT the late Klaus Kinski claimed this 1976 film suffers from "the addiction to the sick and macabre, the addiction to rot and decay" that "garbage-picking movie directors pilfer from the refuse dumps of human brains." GOLDEN NIGHT (NUIT D'OR) was one of many European exploitation films Kinski appeared in during the seventies, and it's actually more substantive than most, with upscale production values and a cast that includes respected actors like Bernard Blier and Charles Vanel. The director was the French TV specialist Segre Moati, whose feature film career appears to have begun and ended with this film.
Michel Fournier is a petty criminal who's just returned from the dead. He's determined to avenge himself on his enemies, most of whom are relatives. Michel sends his enemies threatening letters, followed by ultra-creepy handmade dolls created from spare parts filched from the doll shop where he currently resides. Michel also pays a visit to his comatose mother, who as you might guess doesn't have much to say, and kidnaps his brother's young granddaughter Catherine.
The middle-aged police superintendent Pidoux is among those Michel contacts, being the man who captured and brought Michel down. Michel arranges a nocturnal meeting with Pidoux in which Michel taunts him, warning that he'll kill Catherine if Pidoux tries anything. This is no empty threat, as we learn that Michael had previously kidnapped a little girl who wound up dead.
From there Michel gets involved with Andree, a strange woman who runs an obscure religious cult that once counted Michel as a member. Andree looks after Catherine in Michael's absence, and incurs his wrath when he discovers that Andree has tied up Catherine while he was out.
By this point Pidoux is onto Michel's whereabouts. The latter has no choice but to release Catherine, leading to a final showdown in Michel's favorite gambling joint, the "Golden Night."
This film isn't entirely successful, but it is compellingly weird. With its gaudy color scheme and opulent set design the pic has an arresting look, and is suffused with an aura of overheated melodrama that borders on comedic. In the lead role Klaus Kinski is typically spastic and unhinged, with the scenes in which he abuses the kidnapped girl feeling a little too realistic for comfort.
The narrative drive is generally solid, albeit packed with bizarre detours, such as the police inspector obsessively turning a lamp on and off in his apartment and the kidnapped girl's father enthusiastically telling his traumatized wife how one strangles a child to death.
Yet despite all this the film is just too scant in inspiration and running time. At 78 minutes it's far too short to make a full impression, with quite a few plot points left unexplained (such as Michel's earlier life and his claims of being falsely accused of murder, and also the fate of the mysterious Andree). The reason might be a too-low budget, or possibly just the fact that director Serge Moati was a TV specialist who never got the hang of feature filmmaking.
Vital Statistics
GOLDEN NIGHT (NUIT D'OR)
Eurofrance Films
Director: Serge Moati
Producer: Philippe Dussart
Screenplay: Francoise Verny, Serge Moati
Cinematography: Andre Neau
Editing: Jacqueline Tarrit, Claude Ronzeau
Cast: Bernard Blier, Klaus Kinski, Marie Dubois, Jean-Luc Bideau, Charles Vanel, Anny Duperey, Elisabeth Flickenschildt, Raymond Bussieres, Valerie Pascale, Maurice Ronet