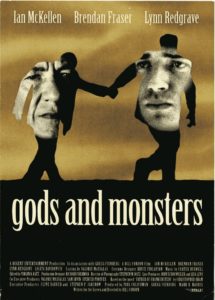 No, this isn't a horror picture, but it is ideal for fans of the genre, being a biopic of FRANKENSTEIN director James Whale done in daring and unprecedented fashion by writer-director Bill Condon.
Clive Barker was the co-executive producer of GODS AND MONSTERS (1998), starring Ian McKellan in a role that should have netted him an Academy Award. An Oscar was won, but it was by Bill Condon for his script, an adaptation of the novel FATHER OF FRANKENSTEIN by Christopher Bram. The novel and film propose to fill us in on what occurred during James Whale's shadowy final days, which ended with him drowned in the swimming pool of his Hollywood mansion.
To this day controversy surrounds the events of James Whale's death, which many people claim involved foul play—even though a suicide note turned up years later negating that supposition. Bram and Condon split the difference by having the aging Whale become involved with a young man he tries to make into his own Frankenstein's monster, who exists to kill its creator. When the "monster" doesn't follow through with Whale's wishes the latter kills himself.
1957: James Whale, director of the original FRANKENSTEIN, THE BRIDE OF FRANKENSTEIN, THE OLD DARK HOUSE and THE INVISIBLE MAN, is in his declining years. He lives in seclusion in his Hollywood mansion with his dour European housekeeper Hannah. As the film opens Whale, whose mental state is impaired from a debilitating stroke, is being interviewed by a bubble-headed young man who Whale, being the dirty old queen he is, gets to strip for him.
Hannah in the meantime has hired a burly young man named Clayton as a gardener. Whale is immediately attracted to the boy, though for reasons beyond the obvious: Clayton has a flat-top haircut reminiscent of Whale's most famous creation. Whale invites Clayton to pose for a painting, and the two strike up a tentative friendship. Whale, however, can't help but provoke Clayton by graphically relating his homosexual escapades—in this way he makes Clayton into a monster.
Clayton grows increasingly drawn to the old man, not realizing he's being molded by Whale in the same way he once directed Boris Karloff. After Clayton accompanies Whale to a Hollywood party thrown by his old nemesis George Cukor (a fellow gay moviemaker), the two retire to Whale's home on a dark and stormy night. There, once again playing upon Clayton's homophobia, Whale comes onto Clayton in an effort to get him to carry out Whale's final and grandest artistic effort: his own murder.
This film is interesting in the way it goes from a straightforward nineties-era indie drama to a dark and expressionistic nightmare complete with flashing lightning—i.e. a movie directed by James Whale. Throughout it all Bill Condon keeps the film, essentially a three character chamber piece, lively and compelling.
Condon incorporates many imaginative segues that frequently break up the action. These include a couple straightforward flashbacks to Whale's days as a moviemaker, but also a black and white fantasy done in the style of THE BRIDE OF FRANKENSTEIN peopled by the present characters, and several hallucinatory shock cuts in which characters from the past intrude on the present. There are also deliberate visual echoes of Whale's films (such as Clayton examining his own reflection in water a la Boris Karloff in FRANKENSTEIN).
Somehow all this works in reinforcing the drama, which never turns into the avant-garde fantasia you might expect. Condon's directorial conviction is absolute, and the performance of Ian McKellan as the disintegrating Whale is impeccable. Lynn Redgrave is nearly as formidable as the dour but funny Hannah, but the real surprise is Brendan Fraser as Clayton. In my view any filmmaker capable of coaxing a great performance from the star of AIRHEADS, ENCINO MAN and GEORGE OF THE JUNGLE is fully deserving of any and all success he may receive!
Vital Statistics
GODS AND MONSTERS
Lion's Gate Films
Director: Bill Condon
Producers: Paul Colichman, Gregg Fienberg, Mark R. Harris
Screenplay: Bill Condon
Cinematography: Stephen M. Katz
Editing: Virginia Katz
Cast: Ian McKellan, Brendan Fraser, Lynn Redgrave, Lolita Davidovich, David Dukes, Kevin J. O'Connor, Mark Kiely, Jack Plotnick, Rosalind Ayres, Jack Betts, Matt McKenzie