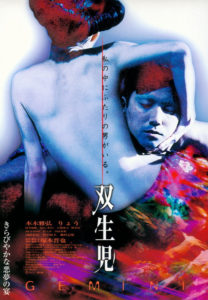 Another fascinating and unprecedented film from Japan's foremost underground auteur Shinya Tsukamoto.  This time around he's turned away from the cyberpunk gorefests that have become his stock in trade and turned out a lyrical horror story set in 1910.  The results aren't quite up there with Tsukamoto masterworks like TETSUO and TOKYO FIST, but GEMINI remains a satisfying and memorable work that bodes well for the future of one of the most vital filmmakers on the scene.
If you've read my TOKYO FIST review you'll know how enthusiastic I am about the films of Shinya Tsukamoto.  This deranged genius turned the Japanese film world on its head with 1988's TETSUO, an insane no-budget wonder that has been described, accurately, as a cyberpunk ERASERHEAD.  Tsukamoto refined his ultra-kinetic style in his subsequent films TETSUO 2, TOKYO FIST and BULLET BALLET.  With GEMINI he's made his greatest leap yet, a straightforward period horror drama based on a story by Edogawa Rampo.
The late Mr. Rampo, who published numerous novels and short stories in the early 1900's, is often touted as Japan's "Greatest mystery writer."  We here in the West have only experienced his work through two collections, JAPANESE TALES OF MYSTERY AND IMAGINATION and THE BLACK LIZARD, as well as a handful of film adaptations like Kinji Fukasaku's delirious classic BLACK LIZARD (1968) and Yasuzo Masumura's BLIND BEAST (1969).  Based on these works, it's clear that Rampo's writing concerned itself with obsession, chiefly of the sexual variety, and was many, many years ahead of its time.  Such qualities are fully evident in GEMINI, which turns out to fit perfectly the natures of both Rampo and Tsukamoto.
This film may be a departure for Tsukamoto, but quite a few of his signature elements are present.  Like TOKYO FIST and BULLET BALLET, the story revolves around madness, despair and a warped love triangle, but it also deals potently with themes of class warfare and undying love (concerns, no doubt, of the original story).
Yukio, an affluent doctor living in the early 20th Century, finds himself haunted by a mysterious double.  What initially seems like a ghostly presence turns horrifyingly real when the sinister figure murders Yukio's parents and imprisons him at the bottom of a deep well.  Flashbacks reveal that the two men are in fact twins who were separated at birth.  Furthermore, the evil twin had for years lived in squalor with the other's wife, and with Yukio out of the picture the two resume their sordid courtship.
The opening shot, of maggots writhing in rotting flesh, pretty much sets the tone.  The first 25 or so minutes, establishing the doctor's placid life, may seem slow, particularly from Tsukamoto, but give it time: things definitely heat up as the plot grows more complex, with the director's trademark intensity asserting itself with a vengeance.
This being one of the only Tsukamoto films with an honest to goodness plot, it's understandable that the storytelling is a bit muddled and even incoherent at times (I had to view the film twice to sort everything out).  As usual, Tsukamoto's real talent shines through in the visuals (Tsukamoto, remember, photographs all his films himself).  Dizzying handheld camerawork clashes with quiet, painstakingly composed compositions to create an atmosphere that's like nothing else.  A gorgeous color scheme consisting of hot, eye-pooping shades of red and blue further compliment one of the most visually stunning films of Tsukamoto's career—and that's no small compliment.
Vital Statistics
GEMINI
Sedic International Inc./Toho Company Ltd.
Director/Screenwriter/Cinematographer/Editor: Shinya Tsukamoto
Producers: Futoshi Nishimura, Toshiaki Nakazawa
Cast: Masahiro Motoki, Ryo, Yasutaka Tsutsui, Shiho Fujimara, Tadanobu Asano, Renji Ishibashi, Akaji Maro, Naoto Takenaka