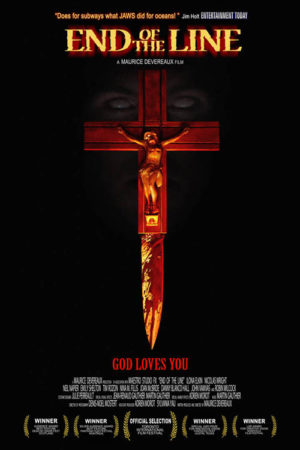 Another movie everyone seems to like but me. Sorry, but I found this subway-set splatter fest to be dull and uninspired.
Released in 2007, the Montreal lensed END OF THE LINE is one of most highly acclaimed Canadian horror films of recent years. Written, produced, directed and edited by Maurice Devereaux, who previously made the low budget features LADY OF THE LAKE and SLASHERS (both released to DVD on the Fangoria Presents label), it won major awards at various prestigious film festivals, including Scotland's Dead by Dawn and Montreal's Fantasia, and was well received on DVD. I, however, contend that it sucks.
In the bowels of a subway station a young woman commits suicide by jumping in front of an oncoming train. Turns out the woman was a mental patient under the care of the psychiatric nurse Karen, and was unwisely let out early.
Karen boards the same subway late one night, only to be stuck when the train breaks down. She meets up with other stranded subway riders, among them a seemingly kindly old woman. The latter, however, turns out to quite different from how she initially appeared when she gleefully stabs a man to death in front of Karen.
The woman is part of a freaky cult called the "Voice of Eternal Hope," who ride the subways and kill—through which the victims are apparently "saved"—in preparation for the end of the world. Mayhem ensues as Karen and the other passengers are pursued through subway tunnels by the psychopathic cultists, leaving several mutilated corpses in their wake.
The real horror occurs when a non-cultist manages to make it to an above-ground subway station, where he discovers that the Eternal Hopers' reign of terror extends far beyond the subway…
Good things? There are a few, including some (early) moments of real suspense, an unforgettably demented bit involving an aborted fetus (which apparently freaked out many festival-goers) and some interesting concepts about the nature of religion—such as the idea that supernatural manifestations should be seen as hopeful rather than scary because they prove the existence of an afterlife. The writer-producer-director Maurice Devereaux belabors the film's spiritual dimension at some length on the DVD making-of featurette, but the film ultimately doesn't contain much that wasn't already covered in recent subway-set slashers like CREEP and NIGHT TRAIN.
Bad acting is a constant annoyance, as are substandard special effects (note, for instance, the human flesh that rips and tears extremely easily), and Devereaux's repetitive one-note script certainly doesn't help matters. Another problem, albeit one that can't be blamed on Devereaux or his collaborators, is that the supernatural twist ending is given away by the DVD cover art!
Vital Statistics
END OF THE LINE
Maurice Devereaux Productions Inc./Critical Mass Releasing Inc.
Director/Producer/Screenwriter/Editor: Maurice Devereaux
Cinematography: Denis-Noel Mostert
Cast: Ilona Elkin, Nicolas Wright, Neil Napier, Emily Shelton, Tim Rozon, Nina M. Fillis, Joan McBride, Danny Blanco Hall, John Vamvas, Robin Wilcock, Kent McQuaid, Robert Vezina, David Schaap, Lori Graham, Christine Lan, Aaron Grunfeld, David L. McCallum