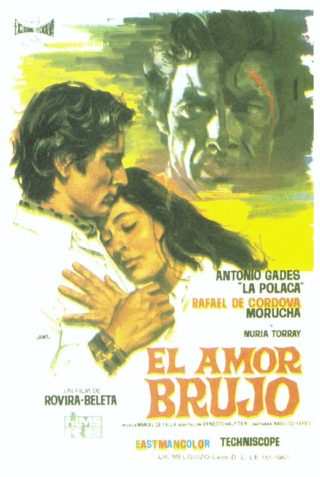 Flamenco dancing takes center stage in this musical extravaganza from Spain's Carlos Saura. All told it's an impressively stylized work that interweaves authentic Gypsy folklore with song, dance and a fairly potent ghost story.
This 1986 film, based on the similarly titled 1925 ballet by the Spanish composer Manuel de Falla, was the final entry in Carlos Saura's Flamenco trilogy. Arguably Saura's most famous work, the trilogy—which commenced with BLOOD WEDDING (1981) and CARMEN (1983)—was made in collaboration with actor/choreographer Antonio Gades. EL AMOR BRUJO (LOVE, THE MAGICIAN) is the most heavily stylized of the three films, lacking the documentary overlay of BLOOD WEDDING and CARMEN'S interplay of reality and fantasy, but satisfying as a straightforward narrative.
As a child the slum-dwelling Carmelo is inextricably linked with the sweet young Candela. As an adult Carmelo remains besotted with Candela, but she's fallen for the dashing playboy Jose. Jose and Candela are married in an elaborate song and dance filled wedding, and it seems everyone's fate is sealed—until Jose gets into a knife fight with Carmelo over Candela's affections. Jose is killed in the fight and Carmelo is imprisoned.
Four years later the grief-stricken Candela summons Jose's ghost, a feat that coincides with Carmelo's release from prison. Carmelo tries to seduce Candela, but she can't break free from Jose's unearthly spell.
A new wrinkle is introduced into this unholy love triangle when Candela is consumed by jealousy upon learning that Jose had an affair with Lucia, a local hottie. An old witch stages a huge dance-a-thon around a bonfire, which is supposed to drive out Jose's spirit but doesn't. Unwilling to give up on Candela, Carmelo makes a final attempt at exorcising Jose's ghost—by uniting it with the still-living Lucia!
The opening scene is a lengthy tracking shot (the first of several) in which we're taken into a soundstage and the outdoor slum setting constructed therein. This highly stagey environ, with its featureless white backgrounds that often fade to blood red, is where the entirety of the film takes place. The idea, according to Carlos Saura, was to begin the film in patently artificial fashion and gradually layer in the realistic detail, although that's not quite how it ultimately plays—indeed, what's most impressive about the production (aside from the Flamenco dancing) is the heavily stylized atmosphere, which Saura choreographs in a masterful fashion reminiscent of the work of KWAIDAN'S Masaki Kobayashi.
The songs that pack the film are as florid and dramatic as any I've heard (with lyrics like "Hell burns no hotter than my blood"), while the equally striking Flamenco dancing, entailing much bodily contortion and enthusiastic foot stomping, is effectively used to express emotion. Overall the stumping is quite impressive, particularly by Antonio Gades in the lead role.
Gades is frankly a much better dancer than he is an actor, but his emoting here is passable. Far stronger acting-wise are the soulful Cristina Hoyos as Candela and the extremely fetching Laura del Sol (of Saura's CARMEN) as Lucia.
The one area where Saura goes wrong is in his attempts at injecting modern pop culture into the classically based proceedings via crappy eighties pop tunes, which clash mightily with the more traditional flamenco songs, registering as an all-around bad idea.
Vital Statistics
EL AMOR BRUJO
Emiliano Piedra Production/Maretwill Film Finance
Director: Carlos Saura
Producer: Emiliano Piedra
Screenplay: Carlos Saura, Antonio Gades
Cinematography: Tedodoro Escamilla
Editing: Pedro del Rey
Cast: Antonio Gades, Cristina Hoyos, Laura del Sol, Juan Antonio Jimenez, Emma Penella, La Polaca, Enrique Ortega, Diego Pantoja, Giovanna, Candy Roman, Gomez de Jerez