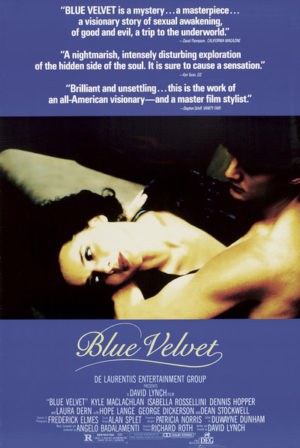 A masterpiece then, a masterpiece now, BLUE VELVET is David Lynch's brilliant dissertation on the horror and depravity lurking beneath picket fence America. It remains one of Lynch's absolute finest films.
BLUE VELVET, financed and released by Italian mega-producer Dino De Laurentiis (who'd just employed David Lynch for DUNE), is one of David Lynch's most acclaimed films, but also among his most misunderstood. One widely held misconception is that the sentimental moments were intended as somehow "ironic." This is reflected in revival screenings whose audiences cheer on Dennis Hopper's slimy Frank Booth character and boo the heroes Kyle MacLachlan and Laura Dern. Yet Lynch's love of and identification with small town naiveté is quite genuine (check out THE STRAIGHT STORY if you don't believe me). In this respect Maclachlan's Jeffrey Beaumont can be seen as the most autobiographical of Lynch's protagonists, being a young man who cherishes the idyllic world of his childhood yet has an unhealthy fascination with the grotesque and bizarre.
BLUE VELVET, while not a huge commercial success, reinvigorated Lynch's career after the disaster of DUNE. It also jump-started those of Kyle MacLachlan and Laura Dern (who's since become Lynch's favorite leading lady) and resurrected that of Dennis Hopper, who was all-but unemployable at the time. It also set the stage for TWIN PEAKS, whose major templates originated with BLUE VELVET, and much of the independent film movement of the nineties (see TRACK 29, THE DARK BACKWARD, THE REFLECTING SKIN, etc.).
While on college break the naive young Jeffrey Beaumont returns to the sleepy town of his childhood to care for his ailing father. Yet no sooner has Jeffrey gotten back than he finds a severed ear in a vacant lot. This is the start of a bizarre mystery.
Jeffrey visits the home of home of the local police lieutenant and gets to know his teenage daughter Sandy. Intrigued by Jeffrey's find, Sandy tells Jeffrey of an exotic brunette singer named Dorothy who may be involved in the mystery. The two go to see Dorothy sing at a local nightclub, and Jeffrey finds himself smitten. He promptly visits Dorothy's apartment, located in the shady part of town Jeffrey's mother has warned him never to go. There Jeffrey steals a key.
The following night Jeffrey winds up hiding in Dorothy's closet, where he witnesses a slimy man named Frank Booth abuse and then rape her. Afterward Dorothy discovers Jeffrey in the closet and forces him to do perverted things to her at knifepoint. The more violent and degrading the sex acts, the more Dorothy seems to enjoy them—and, even scarier for Jeffrey, the more he enjoys perpetrating them!
Jeffrey visits Dorothy the following night for more freaky sex, but runs into Frank. Together with several of his gangster pals, Frank takes Jeffrey and Dorothy to "Pussy Heaven," where Frank's effeminate buddy Ben is keeping Dorothy's son captive. Later, in the parking lot outside, Frank confronts Jeffrey with a horrifying truth he'd rather not face: "You're like me."
The next day Jeffrey reports his findings to the police, and has them confirmed when a severely battered Dorothy turns up naked on the lieutenant's front lawn and announces that Jeffrey "put his disease" in her. This precipitates a raid on Frank's place, and a final confrontation between Frank and Jeffrey—and also between Jeffrey and his own darker impulses.
For all the strangeness and perversity of BLUE VELVET, the film's most uncomfortable sequences are actually the "nicest" ones, such as the ultra-sentimental dance scene in which Jeffrey and Sandy profess their love for one another, and Dorothy's sappy final reunion with her child. The emotion behind these scenes is genuine, and neither is played for laughs (despite what many critics would have you believe). Lynch is not and never was a cerebral filmmaker, but rather an unabashed sentimentalist unafraid to make his audiences uncomfortable, be it through gooey love scenes or depictions of over-the-top perversion and violence.
Lynch also favors uncomfortable laughter, and BLUE VELVET is one of the most cringeably funny movies of all time. It contains some of the darkest, nastiest comedy you'll ever experience, as the funniest scenes are paradoxically the most disturbing (such as Dorothy's climactic nude scene).
This doesn't mean the film isn't scary or suspenseful. It's one of the great thrillers of the eighties, if not of all time, with tension and excitement to spare. The photography of Frederick Elmes (who also photographed ERASERHEAD) and music of Angelo Badalamenti (in his first Lynch film score—there'd be several more to come) are beyond compare, with the performances of Kyle Maclachlan, Isabella Rossellini and Dennis Hopper all up to a similar standard.
Vital Statistics
BLUE VELVET
DEG Entertainment Group
Director: David Lynch
Producer: Fred Caruso
Screenplay: David Lynch
Cinematography: Frederick Elmes
Editing: Duwayne Dunham
Cast: Kyle Maclachlan, Laura Dern, Isabella Rossellini, Dennis Hopper, Hope Lange, Dean Stockwell, George Dickerson, Priscilla Pointer, Frances Bay, Jack Harvey, Ken Stovitz, Brad Dourif, Jack Nance