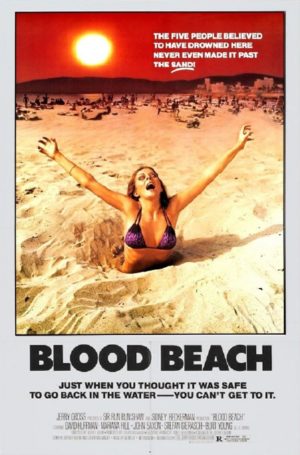 A middling early eighties monster movie notable for its outrageous ad campaign and intriguing premise.  Unfortunately, it seems the film's makers didn't bother to develop it much beyond those perimeters.
If nothing else, BLOOD BEACH (1981) had some real talent working in front of and behind the camera.  The cast consists of seasoned pros like Burt Young (ROCKY), Marianna Hill (MESSIAH OF EVIL; SCHIZOID) and John Saxon (TENEBRAE; A NIGHTMARE ON ELM STREET).  Its exploitation credentials are boosted by the presence of "Sir" Run Run Shaw, one half of Hong Kong's ubiquitous Shaw Brothers, who was an investor, as well as that of executive producer Irwin Yablans, the brains behind HALLOWEEN, FADE TO BLACK and many other cult horror films.  Furthermore, future Hollywood hotshot Neil Canton, producer of the BACK TO THE FUTURE flicks, was an associate producer.
This film also boasts an invaluable asset in the form of distributor Jerry Gross, one of the premiere grindhouse mavens of the seventies.  His ad campaigns for films like I DRINK YOUR BLOOD, ZOMBIE, THE BOOGEYMAN and I EAT YOUR SKIN are in many cases better known than the movies themselves.  Who can forget ZOMBIE'S infamous tagline "We Are Going To Eat You!" or the legendary double bill of I DRINK YOUR BLOOD & I EAT YOUR SKIN?  Gross's campaign for BLOOD BEACH was just as memorable, with ad slicks picturing a screaming woman stuck in the sand with the line "Just When You Thought It Was Safe To Go Back In The Water—You Can't Get To It!"  Sadly, BLOOD BEACH was to be one of Gross's last hurrahs before his Jerry Gross Organization went belly up.
Chasing a dog across a Santa Monica, Ca. beach one night, an old woman is suddenly pulled into the sand by some unseen force.  An investigation ensues, spearheaded by her daughter Katherine and the gruff Sergeant Royko.  The old woman's dog is the next victim of the unseen monster, followed by a young woman buried in the sand.  A mass dig uncovers nothing, although somebody gets the idea to explore an abandoned pavilion bordering the offending beach.  In the meantime more killings occur and a would-be rapist gets his dong bitten off and sucked under the sand.  The monster is finally discovered hiding in the pavilion, revealing itself as a long stalk topped by a flower-like protuberance with sharp teeth.  Sergeant Royko kills it by blowing the whole place up, but the next day it seems that the critter has birthed a number of offspring…which appear to be popping up all over the crowded beach.
To his credit, writer/director Jeffrey Bloom adds some nicely twisted elements to an otherwise aggressively mediocre concoction.  These include the finding of a pair of eyeballs in the sand; their discoverer then asks the beau of a recent murder victim: "what color were your girlfriend's eyes?"  Otherwise, though, there really isn't much here.  The monster that shows up in the end is a memorable one, but it doesn't have nearly enough to do (what it does, remember, takes place mostly off screen).  BLOOD BEACH isn't badly made, but more effort was clearly needed.
Vital Statistics
BLOOD BEACH
Compass International Pictures/The Jerry Gross Organization
Director: Jeffrey Bloom
Producer: Steven Nalevansky
Screenplay: Jeffrey Bloom, Steven Nalevansky
Cinematography: Steven Poster
Editor: Gary Griffen
Cast: David Huffman, Marianna Hill, John Saxon, Burt Young, Otis Young, Lena Pousette, Darrell Fetty, Stefan Gierasch, Eleanor Zee, Pamela McMyler, Harriet Medin, Mickey Fox, Laura Burkett, Marleta Giles, Jacqueline Randall, Don Ba