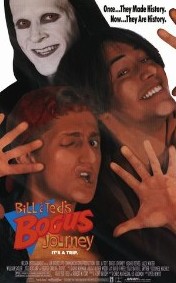 It seemed like a rotten idea: follow up the mildly successful 1989 time travel comedy BILL AND TED'S EXCELLENT ADVENTURE with a more expensive sequel in 1991 (by which time everyone had largely forgotten the first film). That sequel wasn't a big moneymaker, and put a decisive end to Orion's hopes for a long-running B&T franchise (Orion, in fact, declared bankruptcy at the end of 1991). The only thing is, BILL AND TED'S BOGUS JOURNEY, in a most unexpected development, was actually a pretty good movie, and superior to its predecessor in all aspects.
In the idyllic future society created by Bill and Ted at the end of their "Excellent Adventure" an asshole named De Nomolos wants to screw things up. He sends robotic doubles of Bill and Ted back to the year 1991 to stop B&T from winning a pivotal Battle of the Bands competition. Bad Bill and Bad Ted convince their namesakes to accompany them on a road trip to the desert and, once there, throw them off a cliff!
B&T come to as ghosts, and confront the grim reaper. The latter, a pasty black cloak wearing dweeb with a scythe, invites them to challenge him to a contest, but they "Melvin" him (yank up on his underwear) and run off. As ghosts B&T witness their robot doubles trashing their apartment. They also possess the bodies of Ted's policeman father and a fellow cop, and disrupt a séance held by Bill's mom.
This lands them in Hell. There B&T appear fated to stay forever, so they summon the grim reaper and challenge him to a game of Battleship. They win but the reaper changes the rules, making them issue further challenges. These include games of Clue, table hockey and Twister, all of which B&T handily win.
Now under their command, the reaper takes B&T to Heaven, where they mug three inductees and steal their outfits. They meet God and He takes pity on them, putting them in touch with a pair of stunted mutant geniuses known as Stations. All four head back to the mortal plain together with the grim reaper. There the two Stations combine themselves into one big Station, who creates new robotic B&Ts to take on the bad robot B&Ts at the Battle of the Bands competition. But then the evil De Nomolos shows up in a time machine, and he's pissed!
This was the first feature directed by Peter Hewitt—who dubbed it "possibly the most absurd film ever made"—and he does a decent but unexceptional job (which can also be said for his later work on THE BORROWERS, GARFIELD and THE MAIDEN HEIST). I'd also fault the lead performances of Keanu Reeves and Alex Winter, whose overly broad Jeff Spicoli-esque personages get old quickly—although William Sadler is impeccable as the Grim Reaper.
Where the film really shines is in its feverishly inventive script, with its spirited riffs on THE SEVENTH SEAL and A MATTER OF LIFE AND DEATH, and one of the more original cinematic conceptions of Hell. The art direction also deserves a nod, with its fun inversions of CALIGARI-esque expressionism, gothic haunted house décor and (in the Hell sequence) industrial overkill. The Heaven bit is also notable, with some of the most extensive use of old school matte paintings seen in any movie since Hollywood's golden age.
Vital Statistics
BILL AND TED'S BOGUS JOURNEY
Orion Pictures/Nelson Entertainment
Director: Peter Hewitt
Producer: Scott Kroopf
Screenplay: Chris Matheson, Ed Solomon
Cinematography: Oliver Wood
Editing: David Finfer
Cast: Keanu Reeves, Alex Winter, William Sadler, Joss Ackland, Pam Grier, George Carlin, Amy Stock-Poynton, Jimi Martin, Hal Landon Jr., Annette Azcuy, Sarah Trigger, Chelcie Ross