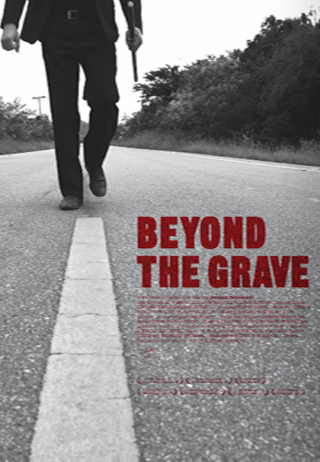 As wonderfully eccentric a take on zombie cinema as anyone could hope for, a Brazilian made film that's creepy, perplexing, energetic, gruesome and recommended.
BEYOND THE GRAVE (PORTO DOS MORTOS), completed in 2011, was a six-year labor of love by writer-producer-director Davi de Olivera Pinheiro, a prolific producer and director of documentaries and short films making his feature debut. Three years and countless festival screenings later, the film has finally begun to make an impact.
In "Another Time, Another Place" a black suit wearing, pistol-packing man enters a desolate bar and shoots two men inside. Another of the bar's patrons, a samurai sword wielding Asian, takes on and easily beats the shooter in a hand-to-hand fight; the man gets the upper hand, however, when the sword gets stuck, and kills his opponent.
The black suited guy, it turns out, is a renegade police officer in a post-apocalyptic hellscape littered with zombies. The officer is looking to track down and kill a demonic killer known as the Dark Rider, and picks up a teen couple in search of the same killer. The three meet up with a seemingly comely trio of non-zombified humans in a pleasant, and temporary, respite inside a deserted school. Their next stop proves far less pleasant: an insane asylum that happens to be the lair of the Dark Rider and his two equally depraved human sidekicks, who kill the officer's companions.
The officer is found alive by the previous band of survivors, who take him back to their school home. But not all is well in this apparent haven: several unruly zombies are kept confined for the edification of their captors, at least one of whom is attacked and bitten by a deader.
Following this is a second confrontation with the Dark Rider, which doesn't go much better than the first. The officer is once again the sole survivor, and, following an episode of psychic body-switching, finally gets his longed-for chance to go mano-a-mano against the Dark Rider.
The zombie apocalypse trope isn't exactly new, but this film contains a wealth of quirky and bizarre elements that place it in the company of Brazilian new wave filmmakers like Glauber Rocha and Ruy Guerra (for the more cine-literate among you, think of it as ZOMBIELAND meets ANTONIO DAS MORTES). It also owes something to Stephen King's DARK TOWER books, from which this film borrows its overall concept and a key line of dialogue ("There are other worlds than these").
Writer-director Davi de Olivera Pinheiro favors an avant-garde editing style that eschews traditional horror movie rhythms, along with potent snatches of Jodorowskian surrealism. Standout examples of the latter include a two-way conversation in which both voices are provided by a single person, and a standoff between a man with a gun and another with an umbrella.
The whole thing is put together with enormous energy and filmmaking savvy, which helps carry us through the portions of the narrative that don't quite hold up. Then again, narrative coherency isn't something one can reasonably expect from a film like BEYOND THE GRAVE, whose power derives from its wildness and unpredictability.
Vital Statistics
BEYOND THE GRAVE (PORTOS DOS MORTOS)
Lockheart Filmes Ltda.
Director: Davi de Olivera Pinheiro
Producer: Isidoro B. Guggiana, Davi de Olivera Pinheiro
Screenplay: Davi de Olivera Pinheiro
Cinematography: Melissandro Bittencourt
Editing: Marcelo Allgayer
Cast: Rafael Tombini, Alvaro Rosacosta, Ricardo Seffner, Amanda Grimaldi, Leandro Lefa, Luciana Verch, Tatiana Paganella, Adriano Basegio, Marcos Guarani, Felipe Longhi, Isidoro B. Guggiana