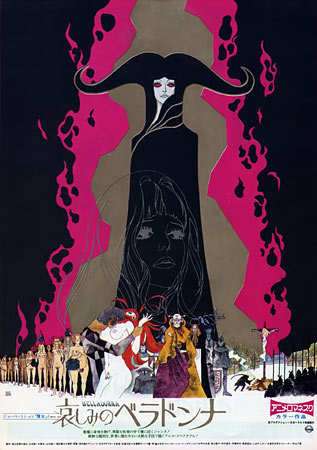 There's never been an anime feature quite like this psychedelic extravaganza. Inspired by some of the darker aspects of European history, it's a hypnotic and perverse spectacle, and an absolute must see.
The basis of this 1973 film was the 1862 nonfiction tome LA SORCIERE (retitled SATANISM AND WITCHCRAFT in English) by Jules Michelet, crossed with the story of Joan of Arc. The film was the final entry in the Osamu Tezuka conceived Animerama trilogy of grown-up animated features—preceded by 1969's A THOUSAND & ONE NIGHTS and 1970's CLEOPATRA—and the only one of the three not scripted and/or directed by Tezuka (who nonetheless contributed some conceptual drawings). The writing and directing chores for BELLADONNA OF SADNESS (KANASHIMI NO BERADONNA) fell to Eiichi Yamamoto, who's best known for helming the previous Animerama features and several episodes of ASTRO BOY.
Living in Versailles during the seventeenth century, Jean and Jeanne are star-crossed lovers about to be married. Jean, however, can't afford the marriage tax demanded by the ruling bishop and so is cast out of the kingdom. The lovers are suffused with sadness, but then one day Jeanne is visited with a small penis-like something that hops through the air and talks. After arousing Jeanne by sliding over her nether regions, the thing promises to help in her quest to get Jean back into her life.
The thing makes good on its word, as over the ensuing years Jean and Jeanne succeed in getting married, and become quite wealthy in the process. But then war breaks out and Jean, rendered impoverished by the conflict, is once again unable to pay his taxes. Jeanne is again visited by an otherworldly something, who reveals itself as none other than the Devil, and demands Jeanne's heart and soul in exchange for helping Jean. Jeanne reluctantly accedes and is rewarded with a great deal of wealth, which only succeeds in inflaming the villagers. So all-encompassing is the condemnation that even Jean abandons her.
Jeanne finds the only way to assuage her loneliness is by furthering her relationship with the Devil. In the meantime bubonic plague ravages the land, and after Jeanne uses her demonic powers to cure an afflicted man she becomes a messiah of sorts to the village people. The village elders are naturally quite threatened by this, and vow to have Jeanne executed. To entice her they use the most effective lure they can devise: Jeanne's ex Jean, whom she still desires.
BELLADONNA OF SADNESS' animation and ambient music score, which comes complete with copious songs (something I could admittedly have done without), are quite redolent of the early seventies, the time in which the film was made. Yet the brilliance of the animation, which juxtaposes still frames with movement in a manner that remains quite innovative, is undeniable. A lush, painterly sheen reminiscent of artists like Gustav Klimt and Aubrey Beardsley is a constant of Eiichi Yamamoto's imagery, as is a definite sexiness, with ever-present images of penetration and naked female flesh suggesting that the witch hunting of past years had its roots in thwarted sexuality.
Another noteworthy element is the impressionistic storytelling that uses hallucinogenic imagery to make its points in a way a live action treatment would never have been able to accomplish. Examples of Yamamoto's oft-kilter visual magic include a nightmarish panorama of melting buildings representing the ravages of the plague, and also the faces of women spectators to Jeanne's execution transforming one by one into Jeanne's face to show how her influence extends far beyond her death.
Vital Statistics
BELLADONNA OF SADNESS (KANASHIMI NO BERADONNA)
Mushi/Nippon Herald Films
Director: Eiichi Yamamoto
Screenplay: Eiichi Yamamoto, Yoshiyuki Fukuda
Cast (Voices): Tatsuya Nakadai, Aiko Nagayama, Katsuyuki Ito, Shigako Shimegi, Masaya Takahashi, Natsuka Yashiro, Masakane Yonekura