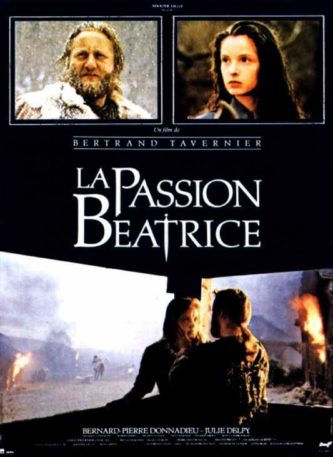 The Age of Chivalry gets a thorough trashing in this bleak period piece from France's Bertrand Tavernier, who was evidently obsessed with making BEATRICE as grim as possible.  He's succeeded admirably, with an overlong yet fascinating account in which incest, madness and murder take center stage.
Demystifying the Middle Ages has been a longtime preoccupation among European and Asian filmmakers, who over the years have given us medieval-minded downers like MARKETA LAZAROVA (1967), ANDREI RUBLEV (1969), Roman Polanski's MACBETH (1971), JABBERWOCKY (1977) and FLESH AND BLOOD (1986).  BEATRICE (known as THE PASSION OF BEATRICE in the US) fits right in with the above, being a relentlessly squalid account that will never be mistaken for EXCALIBUR or BRAVEHEART.
Bertrand Tavernier is one of France's top directors, having made a variety of films spanning a variety of genres, from mystery (THE CLOCKMAKER, 1974) to science fiction (DEATHWATCH, 1980), cop thriller (L.627, 1992), war (LIFE AND NOTHING BUT, 1989), and even a G-rated family drama (A SUNDAY IN THE COUNTRY, 1984).  1987's BEATRICE appears to be his nod in the direction of horror, with its many allusions to witchcraft, werewolves and zombies, as well as the presence of Italian genre pioneer Riccardo Freda, to whom BEATRICE is dedicated, as 2nd assistant director.  The latter helmed classics like I, VAMPIRI (1956), THE HORRIBLE DR. HITCHCOCK (1962) and THE GHOST (1963), and according to Tavernier Freda's expertise in stretching limited budgets was invaluable in crafting the present film.
Beatrice is a beautiful, strong-willed and angelic young woman looking after her family homestead while anxiously awaiting the return of her father Francois de Cortemare, who for years has been off fighting the British.  One day she learns he's set to return and is overjoyed, ignorant of the true significance of the fact that he's scheduled to show up on the night of a full moon.
Cortemare returns home, and reveals himself to be an embittered, brutish monster by mercilessly bullying everyone in sight.  He reserves the full brunt of his swinishness for Beatrice, as he, having given himself over fully to evil, can't stand her angelic nature.  He rapes her repeatedly and forces her to fast for three days atop a tall tower (as, an early flashback informs us, Cortemare himself did as a child).  Finding herself pregnant, Beatrice gets her brother to kick her in the stomach to abort the child, but her father intervenes.  He makes his son the object of a MOST DANGEORUS GAME-styled hunt, at the end of which the slimeball orders his terrified house wenches to ravish the boy.  This is too much for Beatrice, who runs off into the woods.
Her escape, alas, proves short-lived, as all she sees on her sojourn is more unpleasantness, including a witch burning and several young girls hanging from trees.  She returns to the homestead, determined to put her father out of his misery for good.
Tavernier, as he's always readily admitted, never had much time for things like structure or discipline, which is all too apparent here (as it is in most of his other films).  The film is wildly uneven, with erratic pacing and an inflated 132-minute running time that only serves to underline the thinness of the narrative.
But BEATRICE does have real power in its physical recreation of a rural Middle Ages setting, which is thorough and impressively naturalistic without ever seeming the least bit showy or self-conscious.  Equally striking are the performances of Julie Delpy as Beatrice and THE VANISHING'S Bernard Pierre Donnadieu as her monstrous father.  Delpy, just eighteen when the film was made, has an authentically angelic presence that offsets the vileness of Donnadieu, essaying a character that can safely be counted among the most disgusting in cinema history.  Their clash of wills makes for riveting, though far from uplifting, viewing.
This film is among the bleakest of all time, with activities that, in addition to the general nastiness affected by Donnadieu, include a newborn child smothered to death in snow, a witch burned at the stake and young children seen hanging from a tree.  Even the final cathartic murder of Donnadieu by Delpy is presented as just another depressing chapter in the unending cycle of awfulness that is her life.
Vital Statistics 
BEATRICE (a.k.a. THE PASSION OF BEATRICE)
The Samuel Goldwyn Company
Director: Bertrand Tavernier
Producer: Adolphe Viezzi
Screenplay: Colo Tavernier O'Hagan
Cinematography: Bruno De Keyzer
Editing: Armand Psenny
Cast: Bernard Pierre Donnadieu, Julie Deply, Nils Tavernier, Monique Chaumette, Robert Dhery, Michele Gleizer, Maxime Leroux, Jean-Claude Adelin, Jean-Louis Grinfeld, Claude Duneton, Isabelle Nanty, Jean-Luc Rivals, Rosaline Villaume, Maite Maille, Albane Guilhe, Marie Privat, Vincent Saint Ouen, Tina Sportolaro