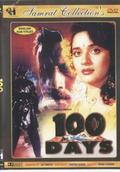 This is the 1991 Bollywood remake of Lucio Fulci's 1977 chiller THE PSYCHIC, and, if you're at all familiar with Bollywood cinema, exactly what you'd expect.
Copyright infringement is a common practice in Asian movies, including the Indian film industry, or Bollywood. 100 DAYS was copied from THE PSYCHIC (which in turn appears to have been inspired by THE REINCARNATION OF PETER PROUD) and given the full Bollywood treatment. The cast includes Bollywood legend Jackie Shroff, a veteran of over 150 Indian films, and Madhuri Dixit, a Bollywood mega-starlet at an early point in her career.
Devi is a young psychic woman living in a big house. She suffers from horrific visions of a man in a black coat shooting a woman and bricking her corpse up in a wall of somebody's house.
Devi's husband is a slightly older man who among other things serenades her on a beach and gives her hundreds of seashells as a wedding gift. It seems all is well with the world until Devi goes for a swim one night and is assailed by another series of psychic visions, this time of a dude stabbing a woman, a broken mirror, a ribbon reading "100 DAYS" and a magazine with a horse on its cover.
This inspires Devi to undertake an investigation into what these visions portend—especially after happening upon a mirror in the basement of her house that looks much like the broken one in her visions. Behind the mirror is a breach in the wall, which inspires Devi to break through it—and discover a skeleton wearing a necklace very much like the one Devi herself wears.
Devi's investigations take her into the domains of several shady individuals who may or may not be involved in the killings. Upon discovering a magazine corresponding to the publication in her vision, and actually witnessing the killing she visualized—in full view of a VHS label reading "100 DAYS"—it seems Devi has solved the puzzle.
Not quite. Devi's final vision was in fact a premonition of a future killing, with herself as the victim!
The director of 100 DAYS was Parthos Ghosh, a competent filmmaker who evidently knows how to work with Bollywood conventions. He's turned out a slick, good looking film (this is an industry, keep in mind, where that's very rarely the case), even if the art direction seems more in line with the 1970s disco scene than the early 1990s.
Western horror fans will likely be distracted and/or annoyed by the periodic music numbers, goofball slapstick, sappy romance and overheated melodrama that pervade this film, as well as the severely bloated 161-minute running time. Yet it's those very things that give 100 DAYS, like most Bollywood films, its charm.
To get through it you'll need a lot of patience. The thriller aspects are reasonably well handled with lots of lightning flashes and a love of slow motion (Brian DePalma was an evident influence), but they're only a portion of a wildly expansive whole. The narrative is meandering, frequently losing sight of its main objectives in a riot of romance, flashbacks, music numbers and even a large scale martial arts showdown. Indian audiences like their films to encompass every conceivable genre, and Bollywood filmmakers can always be counted on to make sprawling epics whether the material warrants that treatment or (as in this case) not. The film is a total mess, in short, but that fact seems beside the point.
There are some interesting music numbers, one of which takes place on a stage beside a giant beating heart and another around several giant seashells (the film has an evident fixation with seashells that I didn't understand). A third has the heroine running through the upper floors of her house at night, assailed by ghosts, skeletons and balls of fire.
Ultimately, however, one thing is for certain: should you ever find yourself having to choose between this film its inspiration, Lucio Fulci's THE PSYCHIC, by all means watch the latter!
Vital Statistics
100 DAYS
Jayvijay Enterprises
Director: Partho Ghosh
Producer: Jay Mehta
Screenplay: Bhushan Banmali, Devjyoti Roy
Cinematography: Late Shri Arvind Laad
Editing: R. Rajendran
Cast: Jacki Shroff, Madhuri Dixit, Javed Jaffrey, Laxmikant Berde, Moon Moon Sen, Sabeeha, Ajit Vachani, Jay Kalgutkar, Neelam Mehra, Shashi Kiran, Shivaji Satham, Mahavir Shah