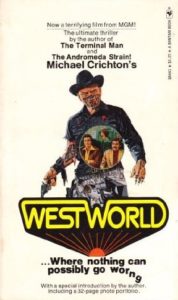 By MICHAEL CRICHTON (Bantam; 1974)
Contrary to how it might appear, this long out of print paperback is not a novelization of the 1973 flick WESTWORLD, written and directed by the late Michael Crichton.  Rather, it consists of Crichton's final draft screenplay for the film, along with 32 pages of photos and frank introductory essays by Crichton and MGM story editor Saul David.  Furthermore, this WESTWORLD has nothing to do with the 2016 HBO series, which doubtless powered the book's renewed popularity: it was the number one entry on Abebooks.com's 2016 Top 30 Most Searched For Out Of Print Books ranking, and secondhand copies now go for prices in excess of $150.
WESTWORLD was a modestly budgeted science fiction thriller with a concept that directly foreshadowed JURASSIC PARK.  Crichton's script, it turns out, is a slick and economical piece of work, being a fast, easy read.  It's also quite bland by modern day standards, promising far more than is actually delivered.  It pivots on Westworld, a Wild West amusement park in which incredibly lifelike androids interact with tourists, in this case two businessmen who have the misfortune to be in Westworld when the robots inevitably go haywire.
There are other robot-staffed parks bordering Westworld, including Medieval World and Roman World, and a lot more could have done with both than what the script provides.  Another complaint (a common one I have with Crichton's writing) is with the barely-there characterizations; the businessmen protagonists are so insipid they barely register, with the script's most memorable personage being the black-suited gunfighter robot (played by Yul Brenner in the movie) who serves as the main antagonist.
Ultimately the best thing about this book, in my view, is Crichton's introduction, which is quite blunt about the problems he encountered making WESTWORLD, his feature directorial debut.  Those problems began with its parent studio MGM, which Crichton admits had a less-than-stellar reputation among filmmakers: "Nobody who had a choice made a picture (at MGM), but then we didn't have a choice."  MGM's first dictate was to cut the budget considerably, resulting in a couple scenes being excised from the script (but which are retained in this book), and forcing Crichton to turn out a film in which "I picked the key scenes and concentrated on them.  The rest of the scenes were plainly shot in haste, with the hope that the audience would forgive me later."  Evidently Crichton's audiences did just that, as WESTWORLD was a sizeable hit that spawned the Crichton-less sequel FUTUREWORLD (1976), the TV series BEYOND WESTWORLD (1980), and of course the distantly related 2016 program, which inspired this book's renewed popularity and by extension this review.