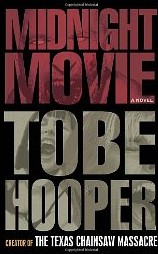 By Tobe Hooper, Alan Goldsher (Three Rivers Press; 2011)
A fun book, MIDNIGHT MOVIE is the first novel by filmmaker Tobe Hooper (written in collaboration with Alan Goldsher), who more than leaves his mark. The RING inspired narrative could admittedly be a bit stronger–and scarier–overall, but the novel is never less than readable and inviting, driven by Hooper's hard-bitten, quintessentially Texan worldview.
Further influences on this novel would appear to be HOUSE OF LEAVES and WORLD WAR Z, evident in its documentary overlay of various documents and interviews, many of them with Hooper himself. As it happens, a no-budget zombie comedy he made as a teenager called DESTINY EXPRESS has been dug up and is set to receive its first screening in decades at a shithole Texas venue called the Cove. Hooper, at home in "Hell-Lay," is summoned to introduce the screening by Dude McGee, an obnoxious internet maven who smells like salami and resembles a "low-budget Harry Knowles."
Also along for the ride is Janine, a hot college gal summoned to be the ticket-taker for the DESTINY EXPRESS screening, dorky film critic Erick, Janine's virginal younger sister Andrea, the film's star Gary Church, a guy from the Department of Homeland Security and quite a few assorted horror geeks. The screening is marred by violence, but the real horror is what occurs in the following days.
In short order, Janine's ex boyfriend, who was also present at the screening, brutally assaults her, while some other patrons become "meth arsonists." Andrea blossoms into a full-blown slut and the Homeland Security guy decides to use his knowledge of terrorist tactics to cause some mayhem of his own. Clearly, viewing DESTINY EXPRESS has caused all these people to become unhinged. And things only get worse, with Gary turning up at Hooper's house a full-blown zombie and Hooper shooting him in the head.
Upon learning of the "virus" Hooper decides to combat it in a unique manner: by remaking DESTINY EXPRESS. This entails convincing a Warners exec to put up money for the new shoot and tracking down the original film's surviving cast members (obviously Mr. Church isn't among them).
I'm a little hazy on the details of the movie virus and how it came into being. As a filmmaker Tobe Hooper isn't exactly known for his storytelling prowess, so I guess I shouldn't be surprised that this novel is a bit light on narrative clarity. In ghoulish invention and black humor, however, it excels, and the film geek milieu it describes feels accurate.
The novel is also noteworthy for its portrayal of Tobe Hooper. In these pages he dishes entertainingly on the production of THE TEXAS CHAINSAW MASSACRE and many of his other films (including POLTERGEIST, which he acknowledges only to inform us that he won't talk about it). He comes off throughout as a seen-it-all recluse with a highly sarcastic bent, which accords with all the accounts I've heard from those who know and have worked with Mr. Hooper–although in the interests of fairness, Hooper insists in a nonfiction afterward that his behavior in these pages is only partially realistic