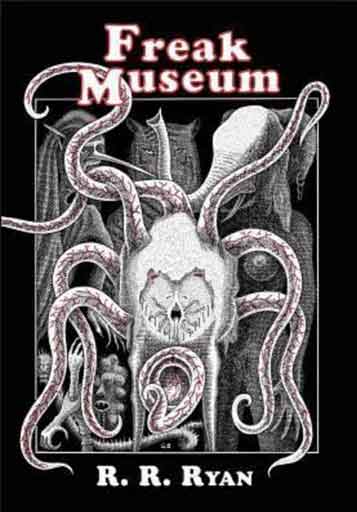 By R.R. Ryan (Ramble House; 1938/2013)
One of two ultra-obscure 1938 novels by England's R.R. Ryan (actually Denice Jeanette Bradley-Ryan) republished in 2013. The other was THE SUBJUGATED BEAST, which I feel is the stronger of the two. It has a focus and precision lacking in the more uneven and problematic FREAK MUSEUM, although the latter does have its charms.
Quintessentially British in style and tone, it begins with the pregnant orphan Bridget O'Malley abandoned by her loser boyfriend. On the advice of a stranger she moves into a mysterious convalescent home in London, where she's immediately given a gynecological exam by a man Bridget likens to a tapeworm. Shortly thereafter she gives birth, only to have the baby snatched away from her.
Enter the creepy Mr. Axe, who runs the nearby Freak Museum. Housed in this forbidding abode are such monstrosities as the Human Octopus, the Human Gorilla, the Sword-Fish Man, the Human Tiger and, most fearsome all, the Stomach, consisting of a "prone, obscene, living sac." Bridget is led to the Freak Museum thinking she's going to find employment, only to discover that in actuality Mr. Axe intends to make her one of the attractions.
Mr. Axe's true motives, however, are even more sinister: he intends to use Bridget's attractive physique to lure a man with information pertinent to Axe's plans for world domination. Mr. Axe ends up reeling in Robert Passport, who closely resembles his cousin Roland, the man Axe seeks. The resourceful Robert appears to be in for the same fate as Bridget, but manages to alert an inquisitive passerby to his presence in the freak museum via military signals flashed through a window, which brings the police into the picture.
Around this point the novel loses a great deal of momentum, shifting its focus from Bridget and Robert in the Freak Museum to the policemen investigating the place–and more often than not getting murdered for their efforts. Things pick up in the final twenty pages, with Robert, Bridget and the freaks taking on the evil Mr. Axe, a situation complicated by the fact that at least one of the freaks is as evil in his own manner as Axe himself. That R.R. Ryan had a talent for ahead-of-its-time grotesquerie is evident in the outrageous climax, which is great by any standard, and nearly redeems the portions of this book that don't measure up.