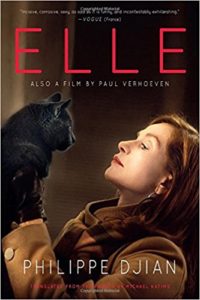 By PHILIPPE DJIAN (Other Press; 2012/17)
Here we have what I'd argue is the sole major benefit of director Paul Verhoeven's 2015 film ELLE (about which I'm admittedly somewhat lukewarm): the long-delayed English translation of the award-winning 2012 novel that inspired it.  Its author Philippe Djian penned the source novel for Jean Jacques Beineix's BETTY BLUE (1986), a novel that as I recall was rambling and disjointed yet strangely compelling—not unlike real life.
The same can be said about ELLE, a "thriller" of sorts about a rape and its aftermath.  The perpetrator of said rape is an unidentified masked male, and his victim is Michele, a tough middle-eged film studio executive who narrates the book.  Her reaction to the rape is complicated, to say the least.  Likewise her relationships with her elderly mother and twentyish son, both of whom Michele supports financially.
This is one of the few truly convincing examples of a woman's voice and attitude rendered by a member of the opposite sex.  That's a damn good thing, as the portrayal of Michele could have very easily turned into a misogynistic caricature given her actions over the course of the book.  Some will say (and have said) that's the case anyway, but Michele's attitudes and behavior are consistent throughout—which is to say consistently unpredictable.
Michele, we learn, has a fraught past: her incarcerated father was a mass murderer, and Michele and her mother were subjected to all manner of abuse due to their association with him.  The fear and anger of those early experiences continue to linger, and matters certainly aren't helped by the fact that Michelle's son has shacked up with a thoroughly unpleasant woman, and that her seventyish mother is behaving like a sexed-up twentysomething.  There's also, of course, the fact of her rape, and its still-at-large perpetrator.
Reviews of the ELLE movie have described Michele's relationship with her rapist as a "cat and mouse" dynamic, but that's not an accurate description of the movie or the book.  In fact, the dynamic that develops between the two characters is difficult to properly define, being morally complex and politically incorrect.  I'll refrain from revealing the hows and whys of that dynamic, as the novel's unpredictability is one of its primary strengths.
As translated into English by Michael Katims, ELLE has a flow and readability that belay the messiness of its narrative.  As I stated upfront, it's quite a compelling, if not especially pleasant or comforting, read that reeks of harsh reality.  This is to say at if the characters and situations laid out in these pages were to exist in real life, the ensuing events would most likely occur exactly as they do here.