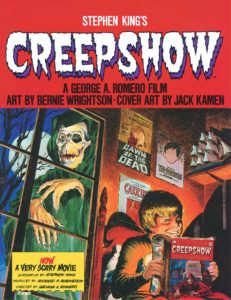 By STEPHEN KING, BERNIE WRIGHTSON (Gallery 13; 1982/2017)
A most welcome reprinting of what until 2017 was one of Stephen King's scarcest books.  It's the graphic novel adaptation of the King scripted, George Romero directed five part anthology film CREEPSHOW.  Even if you don't like the movie this book is a must-own, due to the artwork of the great Bernie Wrightson—who tragically died less than two months before this new edition of CREEPSHOW appeared.
Anyone who's seen Wrightson's art in the initial run of SWAMP THING, Stephen King's CYCLE OF THE WEREWOLF and elsewhere will understand my effusiveness.  No other artist had such a flair for the horrific, with a grasp of lighting and composition that remain second to none and a style and viewpoint you won't mistake for anyone else's.  CREESHOW contains some of Wrightson's finest work, set down in very old school coloring and layout that were wisely preserved in this reprint edition (meaning Gallery 13 wisely bypassed the "digital enhancement" comic reprint craze).
The script of the movie is followed quite closely, although the wraparound segment, involving a boy getting revenge on his father for throwing out the comic book whose contents provide the five stories, isn't present.  Wrightson certainly puts his stamp on the material, which is done in the style of the 1950s-era EC Comics that inspired King and Romero, complete with a Crypt Keeper-esque zombie host who introduces each tale and offers sardonic commentary throughout.
The first story is "Father's Day," about a murdered man's beyond-the-grave revenge on his murderous widow.  It's followed by "The Lonesome Death of Jordy Verrill," a "Colour Out of Space" inspired account of a hick turned into a fungoid monster by a meteorite that unleashes a deadly contagion.  "The Crate" involves an old create containing a hungry man-eating something and a janitor's ultra-bitchy wife, while in "Something to Tide You Over" a jealous husband murders his philandering wife and her lover in a most macabre fashion, only to have the tables turned on him.  Finally, in "They're Creeping Up On You," a rich hypochondriac gets his comeuppance in the form of cockroaches, shown massing in his apartment in a manner that wasn't possible in the movie, and depicted in spectacularly gruesome fashion on the unforgettable final page, which registers as one of Wrightson's signature images.
If there's a weak link here it would be the script by Stephen King, which is marked by great conceptions and not-so-great conclusions.  Endings have always been King's major weakness as a storyteller, and that's evident here in the coda to "The Lonesome Death of Jordy Verrill," which fizzles out in a very un-DC Comics manner, and also those of "The Crate" and "They're Creeping Up On You," marked by twists aren't exactly difficult to foresee.  "Father's Day" is the only one of the tales with an ending that really satisfies.  Again, though, it's not the scripting that makes CREEPSHOW the vital book it is, but the artwork, in which area it simply cannot be faulted.