2010's evil Santa Claus feature RARE EXPORTS: A CHRISTMAS TALE, from Norwegian writer-director Jalmari Helander, has gained a sizeable cult following. You've probably already seen RARE EXPORTS, or at least heard of it. What you may not know is that it's actually the third film of a trio, preceded by the like-minded shorts RARE EXPORTS INC. and RARE EXPORTS: THE OFFICIAL SAFETY INSTRUCTIONS (all be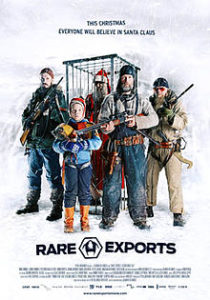 aring a distinctive Santa-inside-a-hexagon end credits symbol). The latter films have become quite popular, garnering over a million hits apiece on YouTube, and are well worth checking out as companion pieces to the feature or standalone entertainments.
The RARE EXPORTS feature is a good'un, scored and paced like a Hollywood actioner and packed with elaborate CGI enhanced set-pieces that belie the obvious low budget (even if the storytelling often leaves something to be desired). It's set in a remote outpost at the North Pole, where an American-led drilling expedition has unearthed Santa Claus, or (as he's termed here) Father Christmas.
This Father Christmas, however, isn't the "Coca Cola Santa" we've come to know. Rather, he's an evil, cannibalistic demon who kills children who aren't nice. Years earlier Father Christmas was hunted down by irate villagers and interred in the very area now being drilled. It's up to a plucky young boy (nicely played by Onni Tommila) to save the day from the evil Father Christmas and his myriad of equally unsympathetic helpers, one of whom is captured and chained up by the boy's hunter father.
It should be pointed out that even though RARE EXPORTS grew out of a couple earlier short films, it isn't the expanded remake we've come to expect (a la THX-1138, THE EVIL DEAD, SAW, GRACE, 9, etc). If anything, it's actually a prequel of sorts, showing how the characters and events of the earlier films emerged.
The 8-minute RARE EXPORTS INC., from 2003, was directed by Jalmari Helander and scripted by Helander and his brother Juuso. Unerringly slick, well visualized and imaginative, it features three professional hunters in the wilderness of Lapland just before the Christmas season's first snowfall. Their target? Father Christmas!
As enumerated by a gravelly voiced narrator (and accompanied by absurdly over-dramatic music), "Father Christmases are considered to be the most precious of the free-roaming wild beasts of the whole of the northern wilderness." The hunters succeed in capturing their prey, a naked middle-aged man, and take him back to a dingy compound. There, in scenes that will be familiar to viewers of the aforementioned RARE EXPORTS feature, they forcibly train Father Christmas to become the sweet and cuddly Santa we all know, and export him to various countries.
The 11-minute RARE EXPORTS: THE OFFICIAL SAFETY INSTRUCTIONS appeared in 2005. Directed once again by Jalmari Helander and scripted by Helander and his bro, it tells essentially the same story as the previous film, with many of its cast members, including the ultra-solemn narrator, returning. Also featured is the young Onni Tommila, who'd come to headline the RARE EXPORTS feature.
As the title portends, the film is presented as a set of safety instructions for Father Christmas hunters and/or trainers. Among other things, we learn it's not a good idea to smoke, use bad language, drink or "act like a lunatic" in the presence of Father Christmas, as those things will only piss him off…and watch out, because as the narrator gravely informs us, if you do so "it will be impossible to gain control over Father Christmas ever again."
Furthermore, once Father Christmas goes nuts he develops an insatiable appetite for human flesh, no longer minding who's naughty or nice. There are some impressive CGI effects herein, and also some fairly intense gore in the bleak ship-bound climax, where we learn the only way to stop an out-of-control Father Christmas is to shoot him in the back of the head!
And on that cheery note, the narrator signs off with the following: "We wish you a safe and merry Christmas!"