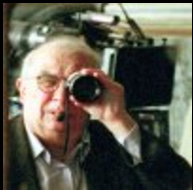 Here we say goodbye to film director Claude Chabrol, who passed away on September 12, 2010 at age 80. His was an extremely prolific career that spanned over fifty years and just as many (more, actually) feature films, along with numerous TV movies and one documentary. The irrepressible Chabrol was still going strong in his final years, helming six features and five TV episodes in the past decade.
Chabrol's films spanned many genres, from comedy (1972's HIGH HEELS/DOCTEUR POPAUL), historical drama (1991's MADAME BOVARY), science fiction (1990's DR. M/CLUB EXTINCTION) and surreal fantasy (1977's ALICE OR THE LAST ESCAPADE/ALICE OU LA DERNIERE FUGUE), but he was best known for the many elegant and macabre thrillers that gave him the moniker the "French Hitchcock." That designation isn't entirely fair, as Chabrol's thrillers for the most part aren't especially Hitchcockian. At their best Claude Chabrol's darkly seductive films don't resemble those of anyone else.
Looking over the man's imposing filmography you'll find many highly admired classics and not a few obscurities (it admittedly took some doing to track down the 1963 BLUEBEARD and ALICE OR THE LAST ESCAPADE), as well as several intriguing-sounding films I have yet to see. I've viewed a good portion of Chabrol's output, mind you, but there are some intriguing titles that continue to elude me: I've heard promising things about DEATH RITE/LES MAGICIENS (1976) and feel I simply must experience Chabrol's ultra-obscure Edgar Allen Poe adaptation THE SYSTEM OF DOCTOR GOUDRON AND PROFESSOR PLUME (1981) before I die (addendum: I've since experienced it, and was impressed).
Among Chabrol's finest films are the truly chilling THE BUTCHER/LE BOUCHER (1970), a psycho thriller that ranks among the absolute best such films for style, suspense and disquieting insight into the darker regions of the human psyche. There's also THE BEAST MUST DIE/QUE LA BETE MEURE (1969), a taut account of a man obsessed with executing the hit-and-run driver who killed his son that remains virtually unsurpassed for sustained tension. The Italian co-production NADA (1974) is something else entirely, a fatalistic and darkly comedic look at a political kidnapping-turned-bloodbath that foreshadows the cinema of Quentin Tarantino.
Those three films were made during Chabrol's so-called "golden period" of 1967-1974, which also produced masterful thrillers like THE UNFAITHFUL WIFE/LA FEMME INFIDELE (1969; the inspiration for Adrien Lyne's UNFAITHFUL), THE BREACH/LA RUPTURE (1970), TEN DAYS WONDER/LA DECADE PRODIGIEUSE (1971) and WEDDING IN BLOOD/LES NOCES ROUGES (1973). Chabrol had made some interesting films before then, of course: his 1958 debut LE BEAU SERGE is widely credited with launching the French Nouvelle Vague/New Wave movement, even though Chabrol was from the start the most straightforward and non-New Wavey member of that crowd (which included Jean-Luc Godard, Francois Truffaut and Jacques Rivette).
One curious fact about the American releases of Chabrol's golden age films was that nearly all were distributed in the US under their original French titles rather than the expected English translations. This was an odd choice, I'd say, for a filmmaker who specialized in straightforward (if idiosyncratic) thrillers, and likely led to a lot of confusion on the part of audiences. The highly stylish and refined drama LES BICHES (1968), for instance, became a minor hit in America, although I'd venture English speaking patrons probably interpreted that title (which literally translates as THE DOES) far differently than Chabrol intended.
As for Chabrol's later films, there are some gems (contrary to what many pundits would have you believe). PLEASURE PARTY/UNE PARTIE DE PLASISIR (1975) is an arrestingly bleak and disturbing look at marital infidelity and the tragic jealousy that ensues. THE CRY OF THE OWL/LE CRI DU HIBOU (1987) is an energetic adaptation of a Patricia Highsmith novel that unflinchingly plumbs the depths of voyeurism, obsession and murder, while THE CEREMONY/LA CEREMONIE (1995) is a dynamic take on the much-dramatized 1930s-era story of the notorious Pappin sisters, chambermaids who murdered their employer.
Of course no study of Claude Chabrol's films would be complete without taking into account his lesser offerings. Yes, there unfortunately exist quite a few Chabrol misfires, particularly during the 1990s. Those include his thoroughly bland Andrew McCarthy(!) headlined adaptation of Henry Miller's QUIET DAYS IN CLICHY/JOURS TRANQUILLES A CLICHY (1990). The overwrought and under-scripted HELL/L'ENFER (1994) is another botched adaptation, this one of Henri-Georges Clouzot's incomplete 1964 film (which, for the record, was profiled in the '09 documentary HENRI-GEORGES CLOUZOT'S INFERNO, a more worthwhile film in every respect). The would-be thriller BETTY (1992) unaccountably received many critical raves, but is overwhelmingly cold and emotionless, not to mention thoroughly uncompelling.
You might argue that for an insanely prolific director like Claude Chabrol his failures are as important in their own way as his successes. The filmographies of many of my favorite filmmakers–Martin Scorsese, Robert Altman, Dario Argento–are notable, as with Chabrol's, for the myriad of bad movies that in many cases outnumber the good ones. Yet like those filmmakers, Chabrol didn't hide from or make excuses for his crappy films, and always seemed to bounce back regardless of how many clunkers he turned out. In short, you just couldn't keep Claude Chabrol down, as he always seemed to find his way back to the top.
He'll be greatly missed.