It's a fact that I tend to read, and review, a lot of foreign fiction.  I've been called a snob about translated novels, but in fact my preference for such books is quite basic and, I believe, well-reasoned.  Consider: translating a book is a big and not-inexpensive job for a publisher to undertake, meaning the book in question has to be pretty damn good to justify all that time and money.  In the words of author and translator Deborah Smith (responsible for the 2016 English edition of the well-received Korean novel THE VEGETARIAN), "Because only a small percentage of books are published in translation, it's as if they all come with a special stamp. Only the best of the best gets through."  Of course that's not always the case, but I contend that Smith's thinking is solid nonetheless.
In recent years many worthwhile English translations have appeared, with 2017 providing no less than three translated novels of special interest to myself and readers of this site (THE TWENTY DAYS OF TURIN by Giorgio de Maria, ELLE by Philippe Djian and THE DEATH OF FANTOMAS by Marcel Allain and Pierre Souvestre)—and the year is only halfway done!  Still, there exist many more worthwhile examples of foreign fiction that have yet to appear in English, most notably the twelve books listed below.
Correction: I think the following novels are worthwhile, as right now I have no way of knowing for sure if any of them are truly worthy of the "special stamp" mentioned above.  Unfortunately, there are no plans to make these books available to non-French/Japanese/Russian/Hungarian speaking readers.  Here's hoping this article, in pointing out the existence of such publications, will do something to change that situation.
Anyway…
1. KIRI NO NAKA By SAGAWA ISSEI
Quite simply the most fearsome and controversial novel of our time: a fictionalized confession by the Japanese cannibal-murderer Sagawa Issei about the 1981 crime that provided his notoriety.  A bestseller in its native land, the novel is said to go into extremely graphic detail about Issei's actions and compulsions, to such a degree that even the most cutting-edge English language publishers (Grove, Creation, Feral House, etc.) have shied away from it.  A page-by-page online English translation of KIRI NO NAKA (IN THE FOG) is currently underway here, but thus far the site's translator has only completed the first third.  Some of the book's more gruesome passages, meanwhile, can be found in English in the 1998 Creation Press tome MEAT IS MURDER, but KIRI NO NAKA in its entirety has yet to appear on these shores.
2. L'ODYSEE FANTASTIQUE D'ARTHUR DEMENT By MARIO MERCIER
Mario Mercier's JEANNE'S JOURNAL is one of the craziest, most artfully twisted novels I've ever read.  L'ODYSSEE FANTASTIQUE D'ARTHUR DEMENT (THE FANTASTIC ODYSSEY OF ARTHUR DEMENT), published in 1976, appears to be just as wild, if not more so.  About a sea voyage through an otherworldly psychoscape filled with bizarre creatures of every imaginable form, the book is said to read like an especially crazed updating of the maritime horror stories of William Hope Hodgson (THE BOATS OF THE GLEN CARRIG, THE GHOST PIRATES, etc.).  It deserves a wider readership, as for that matter do its author's other works of seventies-era fiction (LE CURVEE DE SINGES and LE NECROPHILE), which like ARTHUR DEMENT are unavailable in English—a situation that, regrettably, I don't see changing any time soon (or ever).
3. A COTE DE LA PLAQUE By MARC BEHM
The late screenwriter and novelist Marc Behm wrote THE EYE OF THE BEHOLDER, one of the great American thrillers, in addition to a number of other memorable books, but in his later years he disappeared from the American publishing scene entirely.  His final books were published only in French and Spanish, among them this 1992 publication.  I understand it's a hallucinatory thriller set in Los Angeles, involving a young man with a penchant for projecting himself into fantasy landscapes and an unhealthy obsession with the doings of a local serial killer.  THE SECRET LIFE OF WALTER MITTY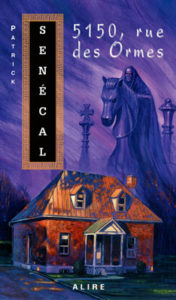 meets RED DRAGON?  Color me intrigued!
4. 5150, RUE DES ORMES By PATRICK SENECAL
To date, only one of the fifteen or so novels of Patrick Senecal, who's often called Quebec's answer to Stephen King, is available in English—and it's not 5150, RUE DES ORMES, Senecal's first, and, I'm told, most interesting novel. Certainly the 2009 film made from it, like the other Senecal adaptations (EVIL WORDS, 7 DAYS), was interesting, being a consistently inventive and ingeniously constructed psychofest with elements of PSYCHO, THE TEXAS CHAINSAW MASSACRE, THE SILENCE OF THE LAMBS, DON'T BREATHE and quite a few other genre classics, all contained in a framework that's quite unique.
5. UTSUKUSHII HOSHI By YUKIO MISHIMA
This novel, published in 1962, was the only science fiction work by Japan's late Yukio Mishima.  Allegedly his most overtly avant-garde novel, it involves people who believe their bodies have been taken over by warring extraterrestrials.  UTSUKUSHII HOSHI (A BEAUTIFUL STAR) was recently adapted for film, so maybe there's hope that this tantalizing obscurity will soon make its long-delayed English language debut—although I'm not holding my breath!
6. A FELADAT By PETER ZSOLDOS
A Hungarian sci fi epic, initially published in 1971, that has been ranked with the best work of masters of the form like Clarke, Bradbury and Lem.  Judging by the philosophically-minded 1975 Hungarian TV miniseries adapted from A FELADAT (THE MISSION), a distractingly low budget affair that nonetheless contains a mind-expanding narrative with some deeply provocative concepts, I'm fully willing to believe the hype.
7. BIG JANE By MICHAEL CIMINO
Of this, the first and only novel by the late Michael Cimino, who of course was better known in his day as a filmmaker (of THE DEER HUNTER, HEAVEN'S GATE and others), I know very little outside the brief plot summary outlined below—and the fact that it won a prestigious French literary award.  Apparently it involves a woman dubbed "Miss Universe with Muscles" and her exploits in 1950s America, which culminate with her fighting in the Korean War.  Despite such quintessentially American subject matter, and the fact that Cimino was a natural born Yank (even if he spent his final years in France), the novel has only been published in French and Italian.  I've heard Cimino spent some time attempting to find an American publisher but, surprisingly, had no luck.  US publishers have had no problem handling other moviemaker-turned-novelist texts like Oliver Stone's A CHILD'S NIGHT DREAM and David Cronenberg's CONSUMED—and indeed, the former book was a bestseller—so I really have no idea why they so roundly rejected BIG JANE.
8. EXISTE EN BLANC By BERTRAND BLIER
Another untranslated novel by a famous filmmaker, in this case France's Bertrand Blier, whose films include notorious taboo-bashers like GOING PLACES, CALMOS and GET OUT YOUR HANDKERCHIEFS.  This 1998 "roman noir," about a misogynistic serial killer and his horrific upbringing, is said to go farther, in terms of excess, provocation and political incorrectness, than any of Blier's films—and those films go pretty damn far!
9. JESSIE A MORGIANA By ALEXANDER GRIN
Russia's master of fantasy Alexander Grin has had several of his stories and novels translated into English (including SCARLET SAILS, RUNNING ON WAVES and THE GOLDEN CHAIN), but not, for whatever reason, this 1929 novella, which happens to be one of his most famous works.  The basis of Juraj Herz's classic 1972 film MORGIANA, it's a horrifically oriented tale of two sisters, one of whom is deeply jealous of the other; blackmail, hallucination and murder ensue.
10. THE SNAIL ON THE SLOPE By BORIS & ARKADY STRUGATSKY
Here we have the one true wild card on this list: a book that has already been translated into English.  However, that translation (perpetrated back in 1980) was so horrendous that even the book's authors, Russia's late Strugatsky brothers, decried it.  As one of the unfortunate readers of that translation, I can attest that THE SNAIL ON THE SLOPE seems quite intriguing, mixing Kafkaesque satire with surreal fantasy in its account of an enchanted forest and the government run organization charged with patrolling its borders, but until a decent English version turns up I'll never know for sure.
11. LE ROND DES SORCIERS By CLAUDE SEIGNOLLE
Initially published in 1945, this was the first novel by France's brilliant Claude Seignolle.  Only a (very) small handful of Seignolle fictions have been published in English, and this particular title is not among them.  It's been described as "another impressive example of his work in this territory" (i.e. lovingly detailed supernatural tales set in rural France), which, given the quality of Seignolle's other work in this "territory," should be more than enough to arouse anyone's interest.
12. CHUCHELO 2, ILI IGRA MOTYLKOV By VLADIMIR ZHELEZNIKOV
A "sequel" to SCARECROW, a Russian novel that was published in English back in the early nineties.  That translation admittedly left much to be desired, but the story it told was quite powerful, a resolutely uncompromising account of a girl facing bullying and intimidation in a Russian village.  This follow-up, I understand, is a sequel only in the thematic sense, being set in a somewhat similar adolescent milieu.  Given the author's attitude and worldview—essentially that of a tougher, Eastern-centric John Hughes—I'm quite intrigued by SCARECROW 2, and nonplussed that it's been ignored by English language publishers who put out the first SCARECROW but ignored this follow-up.  Tantalizing us with a single book by a prolific author?  Now that's just not playing fair!