Here we have the latest installment of my Look Back in Bedlam end-of-the-year overview of topics that are of particular interest to this site—and Bedlam, it turns out, was indeed the word for 2017.  Unlike those of my previous overviews, the following topics, you'll find, all have a common theme, a theme that can be summed up as Welcome to PC Hell…
The Weinstein Effect
Nobody has asked my opinion on the MeToo and Time's Up movements, but I'll give it anyway.  I feel that, contrary to the widely circulated claims that the events of the past three months herald a "sea change" and the "collapse of the patriarchy," there's little hope for any meaningful change.  I'm suspicious of any movement that begins on Twitter, that bastion of ephemeral outrage (remember the 2014 "#BringBackOurGirls" rally and its outcome?), and one that's run by actors, who by and large aren't the brightest bulbs in the box.
But then, I also think any movement that succeeds in bringing down Harvey Weinstein, perhaps the single biggest monster in (or possibly out of) Hollywood, can't be all bad.
The Cinefamily
One subject I have been asked about is the closure of the Cinefamily.  An L.A. based film collective, Cinefamily was located on Fairfax Boulevard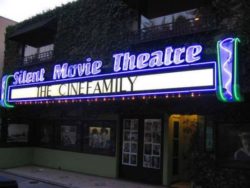 in the longstanding Silent Movie Theater venue, and screened a variety of cult and arthouse flicks.  That all came to an abrupt end in August of 2017, when sexual harassment allegations brought down Cinefamily's executive director Hadrian Belove and board member Shadie Elnashai, prompting a temporary suspension of Cinefamily's activities, followed by permanent closure in November.
I'm of two minds about this, with my initial reaction being, simply, good riddance.  I've deliberately refrained from setting foot in the Cinefamily due to a longstanding beef with one of its board members; I won't bore you with details of the feud, which has made me reluctant to patronize any organization that employs this asshole (to whom I've given more than enough money already!).  Many reports have appeared about the "toxic atmosphere" that allegedly pervaded the place, and given my experiences I have no trouble believing those claims.
Nonetheless, there are a number of troubling aspects here, starting with the circumstances of Belove and Elnashai's dismissals.  They came about due to an anonymous email bearing a number of allegations that, as a subsequent investigation uncovered, were untrue—yet still resulted in the theater's closure.  That would mark this out as one of the more severe examples of the "It's-not-the-quality-of-the-evidence-but-the-severity-of-the-charges" mentality that has become so prevalent in recent months.
It seems that a newly formed organization called Fairfax Theater is set to take over the Silent Movie Theater, with Cinefamily's board members (including, presumably, the money-grubbing asshole mentioned above) running the new venue.  Conspiracy theories about the Fairfax Theater and its formation have been rampant in the LA film community (with the suspicion being that the Belove-Elnashai take-downs were an act of corporate espionage), but they don't matter to me, as I never patronized the place prior to 2018 and don't plan on doing so after.
The Year's Most Obnoxiously Political Movie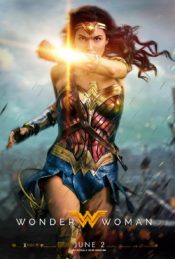 I hate it when a Hollywood blockbuster is politicized.  That occurred, you'll recall, back in 2015, when AMERICAN SNIPER became a right wing cause celebre and anyone who dared criticize it was branded unpatriotic or worse (as Michael Moore and Seth Rogan discovered), and again in 2017, with WONDER WOMAN.  In this case the adulation came from the opposite end of the political spectrum, from liberals who proclaimed it a "masterpiece of subversive feminism."  Once again, anyone who disagreed with this sentiment (James Cameron, for instance) was slammed, branded sexist or anti-feminist.  Myself, I liked WONDER WOMAN a fair amount, although my views don't align with those of the social media lynch mob—which is to say that I find it an above-average superhero movie, but hardly a masterpiece.
Getting back to AMERICAN SNIPER, the way that saga ended may provide a preview of what occurs with WONDER WOMAN.  As it happened, the AMERICAN SNIPER adulation came to an abrupt halt in early 2016, when during the early stages of the presidential campaign it was revealed that its star Bradley Cooper was a (gasp!) democrat.  In matters of politics, contradictory or inconsistent (i.e. human) beliefs or behavior simply aren't tolerated.
Speaking of which, WONDER WOMAN director Patty Jenkins got in trouble for presenting Brett Ratner with an award in late October, a day or two before the sexual harassment allegations against Ratner were unveiled in the LA Times.  She's been forgiven, it seems, but I doubt Jenkins, or star Gal Gadot, or WONDER WOMAN itself, will get too many more chances with the PC police.  They'd better be careful.
Review Snafus
Filmmaker Jonas Mekas once stated "whenever you see a film critic, pick up a brick and throw it at him…no great damage can be done to his head."  That statement, I'd argue, never seemed truer than in 2017.
Take the case of I LOVE YOU, DADDY, the Louis C.K. vanity project that prior to its scheduled November 17 release was warmly embraced by critics.  It initially had a 70 percent rating on Metacritic, and did indeed receive quite a few enthusiastic critical notices (from Slant: "It's as exhilaratingly honest and unshackled a work as many have come to expect from this auteur of cringe comedy"), inspiring The Orchard to shell out a reported $5 million to acquire it.  But after C.K. confirmed the sexual harassment allegations that have been levied against him The Orchard called off I LOVE YOU, DADDY'S November release, and reviewers suddenly turned on the film (which now has a 56 Metacritic rating), claiming they were glad it wasn't being released—as one online article on the subject was headlined, "We Watched I LOVE YOU, DADDY So You Don't Have To."  So much for consistency.
Then there was the Bechdel Test.  This refers to a three point test created in 1985 by author/cartoonist Alison Bechdel that measures female representation in the cinema, decreeing a movie must feature 1). at least two named woman who have speaking roles, 2). who have a conversation, 3). about something other than a man.  A pretty spurious test, I'd say, as most women in prison and nunsploitation flicks would easily pass while a vast number of classics (such as CITIZEN KANE and all movies from the silent era) wouldn't.  Alison Bechdel herself has admitted the test has its drawbacks, claiming "I'm not a stickler about the test—if I were, I wouldn't see many movies."
That, however, didn't stop 2017's critics from running wild with the Bechdel Test, abandoning all other critical standards in the process.  DUNKIRK, MOTHER! and BLADE RUNNER: 2049 came in for particular scorn given that they all fail the test (DUNKIRK because it's a historically accurate WWII movie without any women characters, MOTHER! because none of its characters have names, and BLADE RUNNER: 2049 because none its female cast members talk about anything that doesn't have to do with the male protagonist).  My suggestion: rerelease CHAINED HEAT or BEHIND CONVENT WALLS, two films that pass the Bechdel Test with flying colors!
Finally there was that perennial asshole Rex Reed, who frequently gets called out for writing inaccurate and/or plain crappy reviews (such as his infamous New York Observer write-up for V/H/S 2, which he evidently didn't bother viewing in its entirety).  In 2017 Mr. Reed again made a giant ass of himself by posting an Observer review of Guillermo del Toro's SHAPE OF WATER, to which Reed credited "Benecio" del Toro as the director, citing him as a "Spanish" filmmaker (which neither Benicio nor Guillermo del Toro are), and wrongly identified the mute central character as "mentally handicapped."  Dork!
Most Annoying Literary Trend
This is something that has apparently been going on for several years but which I only found out about in 2017: the practice of hiring "sensitivity readers" to vet books.  Sensitivity readers, for those who don't know, are people employed by publishers to scan manuscripts for racist, sexist or culturally insensitive content–anything, in short, that might upset the loudmouths on Twitter.  This practice is most prevalent in the children's book world (where it's become so popular some publishers have reportedly taken to consulting sensitivity readers before acquiring books for publication), but has inevitably found its way into grown-up books (such as 2016's SMALL GREAT THINGS by Jodi Picoult, a white author who admittedly recruited minority readers to help "contextualize racism from the perspective of an African-American").
There are so many things wrong with this practice I'm not sure where to begin my criticisms.  Indeed, it seems the sensitivity readers themselves aren't happy about the practice, being understandably resentful about expending their knowledge and expertise on other (read: white) peoples' books—as one sensitivity reader has complained, "these writers think they're doing the world a service (but) they're not realizing that them writing a story about a black kid prevents me from writing one."  I'm expecting to see an increase in such claims, and hopefully a realization on the parts of authors and publishers that letting social media bullies dictate their actions is NOT a good idea!
Favorite Discoveries, Literary and Cinematic, From 2017:
BLAZE OF EMBERS By ANDRE PIEYRE DE MANDIARGUES
An erotic-surreal collection, originally published back in 1959, that offers up some notably bizarre gems, even if the book overall isn't nearly as shocking as it once seemed.
BRANCHES By MITCH CULLIN
A most eccentric novel, written entirely in verse, which explores the twisted existence of a psychotic sheriff in the Deep South.
FADE-OUT By PATRICK TILLEY
It's not exactly the "Most Compelling Novel of the Unknown Ever Written" (as the front cover misleadingly claims), but this forgotten alien contact novel from the seventies (revised in the eighties) IS quite suspenseful and absorbing.
FANTASMAGORIE
A 40 minute black and white, dialogue-free reverie from 1963 that explicitly references both DRACULA and VAMPYR—and, in a VERY rare occurrence, is worthy enough to actually stand alongside them.
THE HELL (SHI BA CENG DI YU)
Taiwan's answer to JIGOKU was this ultra-gory fantasy in which a swordsman explores the inferno, and witnesses all manner of unspeakable torment.
THE JUDAS FISH By KENNETH COOK
One of the finest novels by Australia's late Kenneth Cook, a gut-wrenching depiction of the Australian whaling industry of the 1800s that reads like a cross between MOBY DICK and TREASURE ISLAND.
LA FEMME BORREAU
This loopy black and white psychothriller is a fascinating relic of the late 1960s that directly foreshadowed the giallo thrillers of the seventies, and also Brian DePalma's DRESSED TO KILL.
MALEFICIUM By MARTINE DESJARDINS
A freeform oddity from Quebec with a tantalizing ARABIAN NIGHTS-inspired narrative, and a cast of characters that includes djinns, shape-shifters and all manner of monsters both human and otherwise.
PRISON BREAK
A standout Yakuza flick from Japan, being energetic and strikingly bloody—it is, in fact, one of the goriest films of its type, and also one of the most exciting.
RAIN By GUILLERMO BOSCH
A compelling 1995 throwback to the type of high-class porn lit that flourished in the 1960s and 70s, involving a drought-afflicted future world and a lot of microscopically described sexual activity.
STAR SUBURB: LA BANLIEUE DES ETOILES
Ingeniously conceived and designed science fiction from France's late Stephane Drouot, who proves that in in the creation of a futuristic milieu a sense of humanity takes precedence over whiz-bang special effects.
VENGANZA DE LOS PUNKS
A standout example of exuberantly trashy third world action moviemaking, this is a veritable exploitation movie masterpiece involving a murderous revenge undertaken by an obsessed cop upon a gang of colorfully outfitted punks.
YEELEN
Supernatural shenanigans in the deserts of Africa in a most strange and fascinating spectacle that has been called the "greatest African movie ever made."
Remembering Those Who've Passed On:
BRIAN ALDISS (1925-2017) Novelist: HOTHOUSE, REPORT ON PROBABILITY A, BAREFOOT IN THE HEAD, FRANKENSTEIN UNBOUND, BROTHERS OF THE HEAD, HARM
RICHARD ANDERSON (1926-2017) Actor: FORBIDDEN PLANET, PATHS OF GLORY, KITTEN WITH A WHIP, SECONDS, THE NIGHT STRANGLER
JOHN G. AVILDSON (1935-2017) Director: GUESS WHAT WE LEARNED IN SCHOOL TODAY?, JOE, CRY UNCLE!
JIM BAIKIE (1940-2017) Comics Artist: SKIZZ, JUDGE DREDD, ELECTRIC WARRIOR
MICHAEL BALLHAUS (1935-2017) Cinematographer: WORLD ON A WIRE, DESPAIR, AFTER HOURS, THE LAST TEMPTATION OF CHRIST, GOODFELLAS, BRAM STOKER'S DRACULA, I'LL DO ANYTHING, THE DEPARTED
CHUCK BARRIS (1929-2017) TV Producer/Author: CONFESSIONS OF A DANGEROUS MIND, THE GONG SHOW MOVIE, BAD GRASS NEVER DIES
EMMANUELE BERNHEIM (1955-2017) Screenwriter: SWIMMING POOL
WILLIAM PETER BLATTY (1928-2017) Novelist/Screenwriter: THE EXORCIST, THE NINTH CONFIGURATION, LEGION, EXORCIST III
JOSEPH BOLOGNA (1934-2017) Actor: THE BIG BUS, NOT QUITE HUMAN, ALLIGATOR II: THE MUTATION
POWERS BOOTHE (1948-2017) Actor: CRUISING, SOUTHERN COMFORT, GUYANA TRAGEDY, FRAILTY, SIN CITY
CONRAD BROOKS (1931-2017) Actor: GLEN OR GLENDA, BRIDE OF THE MONSTER, NIGHT OF THE GHOULS, PLAN 9 FROM OUTER SPACE, THE BEAST OF YUCCA FLATS, ED WOOD
BILL BUTLER (1933-2017) Editor: A CLOCKWORK ORANGE, PRAY FOR DEATH, LEONARDO'S DREAM
BERNIE CASEY (1939-2017) Actor: GAROGYLES, THE MAN WHO FELL TO EARTH, REVENGE OF THE NERDS, AMAZON WOMEN ON THE MOON, IN THE MOUTH OF MADNESS
PEGGY CUMMINS (1925-2017) Actor: GUN CRAZY, HELL DRIVERS, NIGHT OF THE DEMON
MIREILLE DARC (1938-2017) Actor: WEEKEND, ICY BREASTS, THE PASSENGERS
ROBERT DAY (1922-2017) Director: THE HAUNTED STRANGLER, FIRST MAN INTO SPACE, SHE (1965)
JONATHAN DEMME (1944-2017) Director: CAGED HEAT, SOMETHING WILD, THE SILENCE OF THE LAMBS, BELOVED
CLARE DOUGLAS (1944-2017) Editor: BLACKEYES, SECRET FRIENDS, LIPSTICK ON YOUR COLLAR, COLD LAZARUS, KARAOKE, BLOODY SUNDAY, UNITED 93
GEORGE ENGLUND (1926-2017) Director: SIGNPOST TO MURDER, ZACHARIAH
MIGUEL FERRER (1955-2012) Actor: ROBOCOP, TWIN PEAKS, TALES FROM THE CRYPT, ON THE AIR, THE SHINING (1997)
DARLANNE FLUEGEL (1953-2017) Actor: EYES OF LAURA MARS, BATTLE BEYOND THE STARS, TO LIVE AND DIE IN L.A., FREEWAY
STEPHEN FURST (1954-2017) Actor: ANIMAL HOUSE, MIDNIGHT MADNESS, THE UNSEEN, THE DAY AFTER
SUE GRAFTON (1940-2017) Novelist/Screenwriter: THE LOLLY-MADONNA WAR, LOLLY-MADONNA XXX
GERALD B. GREENBERG (1936-2017) Editor: THE FRENCH CONNECTION, APOCALYPSE NOW, DRESSED TO KILL, STILL OF THE NIGHT, BODY DOUBLE, SCHOOL TIES
ROBERT GUILLAUME (1927-2017) Actor: WANTED: DEAD OR ALIVE, FISH POLICE, BIG FISH
JACK H. HARRIS (1918-2017) Producer: THE BLOB (1958), 4D MAN, EQUINOX, SCHLOCK, DARK STAR, THE BLOB (1988), BLOBERMOUTH
ANTHONY HARVEY (1930-2017) Director/Editor: DR. STRANGELOVE, GRACE QUIGLEY
RICHARD HATCH (1945-2017) Actor: BATTLESTAR GALACTICA (1978), PRISONERS OF THE LOST UNIVERSE
GLENNE HEADLY (1955-2017) Actor: THE PURPLE ROSE OF CAIRO, PAPERHOUSE, THE X-FILES, BARTLEBY
JOHN HEARD (1946-2017) Actor: CUTTER'S WAY, CAT PEOPLE (1982), C.H.U.D., AFTER HOURS, MINDWALK, WATERLAND
JOHN HILLERMAN (1932-2017) Actor: HONKY, THE NAKED APE, AT LONG LAST LOVE, AUDREY ROSE
WILLIAM HJORTSBERG (1941-2017) Screenwriter/Novelist: GRAY MATTERS, SYMBIOGRAPHY, FALLING ANGEL, TALES AND FABLES, LEGEND, ANGEL HEART, NEVERMORE
TOBE HOOPER (1943-2017) Screenwriter/Director: THE TEXAS CHAINSAW MASSACRE, EATEN ALIVE, SALEM'S LOT, THE FUNHOUSE, POLTERGEIST, LIFEFORCE, INVADERS FROM MARS (1986), THE TEXAS CHAINSAW MASSACRE 2, SPONTANEOUS COMBUSTION, THE MANGLER
RANCE HOWARD (1928-2017) Actor: INNERSPACE, THE 'BURBS, TICKS, ED WOOD, MARS ATTACKS
JOHN HURT (1940-2012) Actor: 10 RILLINGTON PLACE, THE GHOUL, THE SHOUT, ALIEN, THE ELEPHANT MAN, 1984, FRANKENSTEIN UNBOUND, HELLBOY, PERFUME, ONLY LOVERS LEFT ALIVE, SNOWPIERCER, JACKIE
CHU ISHIKAWA (1966-2017) Composer: TETSUO: THE IRON MAN, TETSUO II: BODY HAMMER, TOKYO FIST, FUDOH: THE NEW GENERATION, BULLET BALLET, GEMINI, A SNAKE OF JUNE, VITAL, HAZE, NIGHTMARE DETECTIVE, TETSUO: THE BULLET MAN, FIRES ON THE PLAIN (2014)
ALAIN JESSUA (1932-2017) Screenwriter/Director: SHOCK TREATMENT (1973), FRANKENSTEIN 90
FRED J. KOENEKAMP (1922-2017) Cinematographer: BEYOND THE VALLEY OF THE DOLLS, EMBRYO, THE SWARM, THE AMITYVILLE HORROR, THE ADVENTURES OF BUCKAROO BANZAI ACROSS THE EIGHTH DIMENSION
MARTIN LANDAU (1928-2017) Actor: STRANGE SHADOWS IN AN EMPTY ROOM, ALONE IN THE DARK, CRIMES AND MISDEMEANORS, ED WOOD, SLEEPY HOLLOW
UMBERTO LENZI (1931-2017) Director: ALMOST HUMAN, SPASMO, THE MAN FROM DEEP RIVER, CANNIBAL FEROX, EYEBALL, HITCHER IN THE DARK
JERRY LEWIS (1926-2017) Actor/Director: THE DAY THE CLOWN CRIED, SLAPSTICK OF ANOTHER KIND, THE KING OF COMEDY, CRACKING UP, ARIZONA DREAM
ULLI LOMMEL (1944-2017) Actor/Director: THE TENDERNESS OF WOLVES, THE BOOGEYMAN, THE DEVONSVILLE TERROR, OLIVIA, STRANGERS IN PARADISE
RAY LOVELOCK (1950-2017) Actor: LET SLEEPING CORPSES LIE, ALMOST HUMAN, AUTOPSY, THE LAST HOUSE ON THE BEACH, MURDER ROCK
CURT LOWENS (1925-2017) Actor: WEREWOLF IN A GIRLS' DORMITORY, TORN CURTIN, THE MEPHISTO WALTZ, THE ENTITY, NECRONOMICON
JAY LYNCH (1945-2017) Cartoonist: BIJOU FUNNIES, GARBAGE PAIL KIDS
CHARLES MANSON (1934-2017) Media Personality: MANSON, CHARLES MANSON SUPERSTAR
TOSHIO MATSUMOTO (1932-2017) Director: FUNERAL PARADE OF ROSES, DEMONS
DINA MERRILL (1923-2017) Actor: NIGHT GALLERY, THE MEAL, TALES OF THE UNEXPECTED, TWISTED (1986), FEAR (1990), SUTURE
RADLEY METZGER (1929-2017) Director: THE LICKERISH QUARTET, THE IMAGE
TOMAS MILIAN (1933-2017) Actor: DJANGO KILL!, THE LAST MOVIE, DON'T TORTURE A DUCKLING, ALMOST HUMAN, SALOME (1986)
MARY TYLER MOORE (1936-2017) Actor: MARY'S INCREDIBLE DREAM
ROGER MOORE (1927-2017) Actor: THE MAN WHO HAUNTED HIMSELF, THE NAKED FACE
ERIN MORAN (1960-2017) Actor: WATERMELON MAN, GALAXY OF TERROR
JEANNE MOREAU (1928-2017) Actor: LA REINE MARGOT (1954), LA NOTTE, THE TRIAL, DIARY OF A CHAMBERMAID, CHIMES AT MIDNIGHT, MADEMOISELLE, THE BRIDE WORE BLACK, HU-MAN, LA FEMME NIKITA, ANNA KARAMAZOFF, UNTIL THE END OF THE WORLD, LES ROIS MAUDITS (2005)
SHOGORO NISHIMURA (1930-2017) Director: APARTMENT WIFE: AFFAIR IN THE AFTERNOON, LADY BLACK ROSE, ROPE AND SKIN
MICHAEL NYKVIST (1960-2017) Actor: DOWNLOADING NANCY, THE GIRL WITH THE DRAGON TATTOO (2009), THE GIRL WHO PLAYED WITH FIRE, THE GIRL WHO KICKED THE HORNET'S NEST, EUROPA REPORT
BAARD OWE (1936-2017) Actor: EUROPA, THE KINGDOM (TV)
ANITA PALLENBERG (1942-2017) Actor: CANDY, BARBARELLA, DILLINGER IS DEAD, PERFORMANCE, 4:44 LAST DAY ON EARTH
MICHAEL PARKS (1940-2017) Actor: THE BIBLE, TWIN PEAKS, FROM DUSK TILL DAWN, WICKED, GRINDHOUSE, RED STATE, TUSK
BILL PAXTON (1955-2017) Actor: NIGHT WARNING, TAKING TIGER MOUNTAIN, MORTUARY, THE TERMINATOR, WEIRD SCIENCE, ALIENS, NEAR DARK, BRAIN DEAD, THE DARK BACKWARD, BOXING HELENA, THE LAST SUPPER, FRAILTY, EDGE OF TOMORROW
ALEKSEI PETRENKO (1938-2017) Actor: AGONY, FAREWELL, THE IDIOT (2003)
JERRY POURNELLE (1933-2017) Novelist: INFERNO, OATH OF FEALTY, ESCAPE FROM HELL
KIT REED (1932-2017) Novelist: FORT PRIVILEGE, GONE
CLAUDE RICH (1929-2017) Actor: THE BURNING COURT, THE BRIDE WORE BLACK, JE T'AIME JE T'AIME, LES ROIS MAUDITS (2005)
DON RICKLES (1926-2017) Comedian/Actor: X: THE MAN WITH THE X-RAY EYES, INNOCENT BLOOD, CASINO
EMMANUELLE RIVA (1927-2017) Actor: THERESE DESQUEYROUX, J'IRAI COMME UN CHEVAL FOU
JEAN ROCHEFORT (1930-2017) Actor: WHO ARE YOU POLLY MAGOO?, THE TIME TO DIE, THE PHANTOM OF LIBERTY, CALMOS, DEATH RITE, FRANKENSTEIN 90, LOST IN LA MANCHA
GEORGE A. ROMERO (1940-2017) Screenwriter/Director: NIGHT OF THE LIVING DEAD, THE CRAZIES, MARTIN, DAWN OF THE DEAD (1978), CREEPSHOW, TWO EVIL EYES, BRUISER, LAND OF THE DEAD, DIARY OF THE DEAD, SURVIVAL OF THE DEAD
SAM SHEPARD (1943-2017) Actor/Playwright/Screenwriter: THE UNSEEN HAND, RENALDO AND CLARA, RESURRECTION, THE RIGHT STUFF, PARIS TEXAS, FOOL FOR LOVE, COLD IN JULY
RICHARD SCHICKEL (1933-2017) Journalist/Film Critic: THE DISNEY VERSION, CONVERSATIONS WITH SCORSESE
HANK SEARLS (1922-2017) Novelist/Screenwriter: THE PILGRIM PROJECT, JAWS 2 (novelization), JAWS: THE REVENGE (novelization)
J.C. SPINK (1972-2017) Producer: CHEATS, THE BUTTERFLY EFFECT, A HISTORY OF VIOLENCE
LISA SPOONAUER (1972-2017) Actor: CLERKS
HARRY DEAN STANTON (1926-2017) Actor: ALIEN, WISE BLOOD, CHRISTINE, REPO MAN, PARIS TEXAS, THE LAST TEMPTATION OF CHRIST, WILD AT HEART, TWIN PEAKS: FIRE WALK WITH ME, FEAR AND LOATHING IN LAS VEGAS, THE GREEN MILE, THE STRAIGHT STORY, INLAND EMPIRE
GEORGE "THE ANIMAL" STEELE (1937-2017) Wrestler/Actor: ED WOOD
RICK SULLIVAN (1955-2016) Publisher/Film Reviewer: THE GORE GAZETTE
SEIJUN SUZUKI (1923-2017) Screenwriter/Director: TOKYO DRIFTER, BRANDED TO KILL, ZIGEUNERWEISEN
JIRO TANIGUCHI (1947-2017) Manga Writer/Artist: HOTEL HARBOUR VIEW, A DISTANT NEIGHBORHOOD, IKARU
EMMA TENNANT (1937-2017) Novelist: HOTEL DE DREAM, THE BAD SISTER, TWO WOMEN OF LONDON: THE STRANGE CASE OF DR. JEKYLL AND MRS. HYDE
JAY THOMAS (1948-2012) Actor: C.H.U.D., FREDDY'S NIGHTMARES, HORRORWEEN
ADAM WEST (1928-2017) Actor: ROBINSON CRUSOE ON MARS, BATMAN (TV), THE NEW AGE
GORDON WILLIAMS (1934-2017) Novelist: THE SIEGE OF TRENCHER'S FARM, THE MICRONAUTS
HEATHCOTE WILLIAMS (1941-2017) Playwright/Actor: AC/DC, STORMY MONDAY, HOTEL (2001), BASIC INSTINCT 2
BERNIE WRIGHTSON (1948-2017) Artist: SWAMP THING, CREEPSHOW, CYCLE OF THE WEREWOLF, BATMAN: THE CULT, CLIVE BARKER'S HELLRAISER
THIERRY ZENO (1950-2017) Director: VASE DE NOCES, OF THE DEAD
ERIC ZUMBRUNNEN (1964-2017) Editor: BEING JOHN MALKOVICH, HER